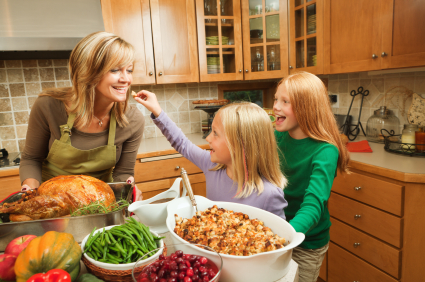 It almost seems like a requirement that my January column will be about whatever is perceived to be new, hip and trendy for the New Year. As my brain tried to climb out of its bourbon-laced eggnog induced haze, words such as sustainable green foods, pomegranate boutique vodka martinis and meat glue began to emerge. These thoughts were all pushed aside by an innocent question from my 12-year-old niece Kathryn. "Uncle Persnickety, Whatever happened to Sunday dinner?" She innocently asked. The question hit me like a ton of leftover Christmas fruitcake. It triggered a flood of childhood memories of mouth-watering Sunday afternoon feasts, orchestrated by my mother and grandmother. It also made me realize that somewhere between high-school and entering the real world, Sunday dinner disappeared.
Of course we still eat food on Sundays, but we are more apt to settle for pizza and takeout rather than pot-roast or baked ham. Food has become a spectator sport like the NFL or NBA. We enjoy watching the food network, top chef or Hell's Kitchen, but the thought of actually picking up a knife or turning on the stove to making real food is just too much of an ordeal for some people. This is a real tragedy. Sunday dinner was never about organic free range chicken or trying to replicate the latest 43 ingredient entrée from the hot celebrity chef of the moment. For me, Sunday dinner was about family and community. These components plus homemade cooking made with hands with the all-natural ingredient of love is what made the food so soul satisfying.
Think about your favorite foods as a child. Now think about ordering those dishes in a fancy restaurant. They never match up to the memory. Macaroni and cheese and mashed potatoes have often been given the gourmet treatment by professional chefs, myself included, often with less than stellar results. Food made by loving hands and a person with passion for the ingredients always trumps pedigreed products produced by soulless kitchen staffs. How can we return love and passion to the food?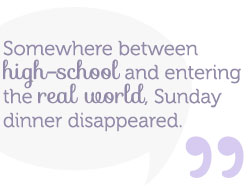 I think Kathryn has the right idea. Sunday dinner is a good place to start. It is also good that she is cooking at a young age. There is no need to try and cook Julia Child's recipe catalog from A-Z. The scrambled eggs, French toast and spaghetti she makes now are great dishes to start with. Dishes with a high probability of success will help keep the passion burning. I think cooking one meal a week as a community or family would go a long way in restoring our passion for food and community.
My ideas for a good Sunday meal include spaghetti and homemade meatballs with Caesar salad and garlic bread. The meatballs can be made by all age groups and is a fun hands-on activity. Chicken and dumplings is good cold weather fare that is also simple to make. Fried chicken and macaroni and cheese can help teach kids, and parents, that chicken has shapes other than nugget and that mac-n-cheese doesn't only come from a blue box. Roast beef, pork or chicken are also good beginner meals to make. Their longer cooking time allows for unhurried making of salads and other side dishes. Mash potatoes are another dish everyone enjoys that can be hands-on fun. From peeling to mashing, it can be a group activity.
Don't worry if these first-time forays end up with some skin still on the potatoes or lumps. That's just extra love going into the food. The more often you cook together, the better the food will become.
Yes, Kathryn the traditional Sunday dinner has temporarily disappeared from our kitchens and tables. I am hoping that you and others of your generation can help bring it back. Cooking in the kitchen together as friends and family can be fun. It is those meals and experiences that led me to cooking as a career and lifelong passion. Katherine, let me know when you and I can make Sunday dinner together for the family. The menu is your choice. For everyone else, Sunday dinner is a simple and fun tradition you can begin with the New Year. Start with these easy recipes: Seven Layer Salad, Roast Pork with pan gravy, Scalloped Potatoes, and Berry Cobbler. Until next month, Bon Appétit.
Seven Layer Salad
Served in a footed trifle bow. This recipe is inspired by my mom, who used to make it hours ahead. No, I am not mathematically challenged and yes, there are more than seven layers.
Ingredients
1

head iceberg lettuce

cored and torn into medium pieces

1

head romaine

cored torn into medium pieces

12

strips bacon

cooked cooled and diced

1

red onion

diced

6

eggs

hard cooked and diced

2

avocados

diced

4 to

matoes

diced

2 ½

cups

shredded sharp cheddar

2

cups

crumbled croutons

1½

cups

mayo

¼

cup

vinegar

2

tbsp

sugar

4

tbsp

Dijon mustard
Instructions
To make the dressing, mix mayo, vinegar, sugar, and Dijon mustard. Chill.

To assemble, mix lettuces. Put half on bottom of trifle dish. Alternate half of the remaining ingredients then spread half the dressing in middle layer. Repeat process until bowl is filled. Top with remaining dressing and crumbled croutons.
Roast Pork with Pan Gravy
Ingredients
1 5-

lb

pork roast

2

tbsp

parsley

2

tbsp

thyme

2

tbsp

rosemary

2

tbsp

minced garlic

2

tbsp

honey

½

cup

panko bread crumbs

2

onions quartered

5

ribs celery

3

carrots split
Instructions
Preheat oven to 350 degrees.

In a bowl, combine parsley, thyme, rosemary, garlic, honey, and bread crumbs.

Line roasting pan with celery, carrots and onion. Place the pork roast on top. Sprinkle well with salt and pepper. Spread bread crumb mix on top.

Cook until internal temp is 145 degrees. Remove the roast to platter and let rest 10 minutes before slicing.

To make the gravy, heat the roasting pan (with the vegetables still in it) on your stovetop. Dust the vegetables with 3 tbsp flour and stir well. Add 4 cups beef broth. Bring the mix to boil, then reduce the heat. Simmer for 5 minutes. Strain and serve with pork roast.
Scalloped Potatoes
Ingredients
8-10

Yukon gold potatoes

peeled and sliced ¼-inch

12

oz

shredded sharp white cheddar cheese

10

scallions

diced

6

eggs

1½

pints

cream

butter to grease the pan

Salt and pepper
Instructions
Make the custard by combining eggs and cream.

Soak potatoes in custard mix.

Layer the potatoes in a 9×11 casserole dish greased with butter, reserving the custard mix. Sprinkle each potato layer with salt and pepper. Pour the remaining custard mix over potatoes.

Top the final layer with cheddar, bread crumbs, and scallions. Cover with foil. Bake at 325 degrees for 45 minutes.

Uncover and bake 30 more minutes.
Berry Cobbler
Ingredients
8

cups

mixed frozen berries

⅓

cup

sugar

3

tbsp

lemon juice

1¼

cup

milk

¼

cup

sugar

4

cups

Bisquick®

2

tbsp

melted butter

2

tbsp

cinnamon sugar

Ice cream for serving
Instructions
In a bowl, combine the mixed berries, 1/3 cup sugar, and lemon juice. Mix well and let sit for 20 minutes, then transfer berry mixture in a greased cast iron skillet.

Make the crust by combining the milk, sugar, and Bisquick. Drop on top of the berries and spread evenly.

Drizzle with melted butter and cinnamon sugar.

Bake at 375 degrees for 35 minutes.

Serve with ice cream