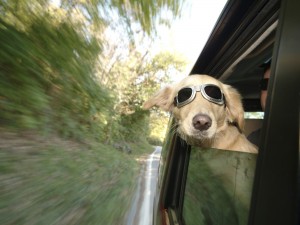 On the Way to Cape May….gee, that's kind of catchy. Someone should write a song….oh, sorry…. got distracted there for a moment!
Seriously, on your way to Cape May, or on any other road trip, whether it's a day trip, a several-day trip, or part of a multi-day vacation, it's always more fun if you can bring along the 4-legged ones. I know our dogs, Guinness and Jameson, just love road trips. In fact, I think they think that the car should never leave without them in it! You'll have more fun being with your dog(s) and your dog(s) will certainly love being included in the fun and excitement.
When planning a road trip, of course we want to remember…SAFETY FIRST!
As with any adventure, or really anything we do, a little planning goes a long way. Here are some tips to help keep your dog(s)–and you–safer on any road and, in case you are flying into Atlantic City Airport for your visit to Cape May, some flying safety tips, as well.
Safety Belts and Car Crates
Whether you have one or more large dogs, small dogs, or one or more of each, when in the car, they should be in a safety belt or in a safe crate. If crate trained, your dog(s) can ride in a car crate. This should be made of non-collapsible materials so as to not fold up or collapse if jostled. The crate should optimally be fastened down to avoid being thrown about the car in the event of an accident, especially if the crate and dog are small and do not "fill" the space you have allotted for the crate. In the event of an accident or sudden movement of the vehicle, the object of the crate is to protect the dog from being tossed around and injured. It will also keep the dog from disturbing or distracting you while driving, keeping everyone more attentive and safe. Use a crate if your dog is already crate trained. If not already trained, it is still your best option, so crate train your dog in the car crate at home. Use regular crate training methods and when your dog is comfortable in the crate, use it in a parked car, then on a short excursion, then longer. This way your dog will be relaxed and enjoy the adventure more, which means you will too.
If your dog(s) is/are larger or if you just do not prefer to use a crate, use a car safety harness instead. This IS NOT the "people" safety belt which comes with the car! Depending on the type you prefer, some can stay in the car, while others can come out with the dog(s) and be used as a walking harness as well. Again, train your dog(s) in advance. Get your dog used to wearing the harness around the house, then while walking, then in a parked car, a short trip, and voila, you're on the road safely. If you use the safety harness, your dog will have the option of watching as the world goes by, or the freedom to lie down and relax while you do the driving. Whether you use a crate or a safety harness, this will also protect your dog(s), in the event of an accident or problem, from running away if frightened, thus avoiding a lost or otherwise injured dog(s).
Pitstops
It may be advantageous, especially for your first few trips, to be sure your dog(s) travels on an empty stomach. Stop often so both you and your dog(s) can have appropriate and timely potty breaks. Of course, be sure to have the car properly ventilated, no matter what time of the year you are traveling, AND NEVER, NEVER; leave your dog(s) in the car in any heat. If you are uncomfortable in the heat, in the car, it can be deadly to your dog(s).
Whenever traveling with your dog(s), or even without, unless it's a day trip, be sure to plan on accommodations in advance. Also check to see if any rest stops, restaurants, stop-overs, etc., are dog friendly. Rules vary and are often very specific, so you want to be sure that your planning will insure a terrific experience, not one of unwelcome surprises.
Up in the air
When traveling by air, it's especially important to check the specific requirements of each individual airline, as well as airport amenities (areas to walk, areas where pets are allowed some freedom, etc.). Call/check well in advance so you are prepared for convenient and SAFE travel for your pet. Crates are usually required in air travel, and airlines have very strict and specific requirements. In additional to crate training your dog(s), be sure to train your dog(s) to adjust to people walking around as well as lifting the crate, and having the crate transported on a cart. Try to accustom your dog to quiet movement and translocation. Airlines will not fly animals if the temperature at a location is to exceed 85 degrees, and you should not only watch your pet boarded on the plane, as well as off loaded, but you should also plan on a direct flight. Some airlines are more pet friendly than others, so…. do your homework.
Travel, have fun, plan ahead, and….SAFETY FIRST!
Paws-atively love those road trips!
Good Read Recommendation of the Month: ROAM by Alan Lazar, a wonderful story about enduring love throughout travail and trouble. And, there is accompanying music!