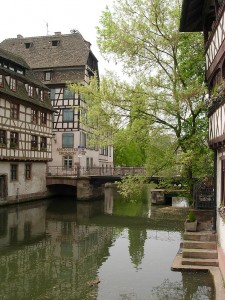 The title alone has probably scared off a multitude of home cooks. For some reason, merely saying the words French Cuisine elicits disparate reactions. For foodies it brings slobbering adulation and visions of silky sauces, rich exotic meats and decadent desserts. For diners it can be the fear of being mocked by snooty waiters for using the wrong fork with their salads and fumbling through the menu with Jimmy Durante style verbal gymnastics. For the home cook, and many first year culinary students, the thought of cooking French food just brings fear. Sometimes the French act like they invented the entire concept of eating. It seems that in America we worry more about what we shouldn't eat rather than enjoying what we do eat. The French have a cultural appreciation for food and wine that is absent from many regions of this country. Not every French meal is a seven course 30-dirty-pots destroyer of kitchens. Neither is every Gallic dish laden with snails and organ meats. The latest hip trend here is to eat local and farm to table foods, the French couldn't imagine eating any other way.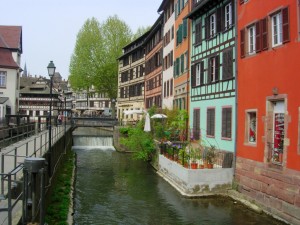 My favorite French dishes have rustic rural roots rather than Parisian pompousness. In France, regionalism and freshness reigns supreme in the kitchen. One region, whose cuisine has always attracted my attention, is Alsace. Located in the northeast corner of France, Alsace is nestled against the river Rhine next to Germany and Switzerland. At various points throughout its long history, Alsace has belonged to Germany and this is reflected in its gastronomy. Alsace belies the fact the man and politics can alter borders and allegiances but not an Epicureanism that is rooted in the earth, streams, fields, and forest. To be sure there are elements of Germanic cuisine such as sausages, spaetzle sauerkraut and beer, but to call Alsatian food a French/German hybrid does a disservice to all three cuisines. The distinctiveness of this region is demonstrated in its beverage selection. Rich rural farmland produces grapes such as Riesling, Gewurtztraminer and Sylvaner producing great white wines in a country associated with robust reds. Orchards and meadows yield a bounty of fruits which are distilled into potently aromatic eaux-de-vie. Then there is beer. Alsace is the largest beer producing and consuming region in France. All of these beverages pair well with the local fare and are also prominent in the food. This pairing is notably showcased in one of the region's most famous dishes Coq-Au-Riesling.
A variant on the French classic Coq-Au-Vin, the Alsatian staple features the area's best known wine. Fruity yet not as sweet as its Germanic cousins Alsatian Riesling lightens the flavor and color of the burgundy rich Coq-au-Vin. Finished with cream from local dairies this dish stands out as example of a cuisine adapting to its terrain. No discussion of Alsatian cuisine would be complete without mentioning my favorite culinary animal, the pig.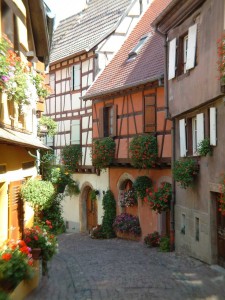 How could I not fall in love with a region the embraces the humble swine as much as the Alsatians? Pork in all its varied incarnations is well represented on the menu and the table. lardons of crispy slab bacon enhance Coq-au-Riesling as well as TarteFlambee. TarteFlambee or Flammekuche is the Alsatian take on pizza. A crisp wood oven fired crust is laden with fresh from the cow Fromage blanc, caramelized onions and strips of fat-streaked bacon. A dish composed from these rich earthen flavors can only be described with one word – Yum. Pork is also prevalent in the sausages and terrines that promiscuously appear in the brasseries and cafes of the towns and villages. The French art of charcuterie is living culinary history in Alsace. Fatty Foie Gras and smoke-tinged hams are produced with techniques that are several centuries old. The region is also famous for its earthenware pottery that often burst with gastronomic delights such a Chou-croute, a mild French version of sauerkraut served with juniper berries and sausage or braised meat, and Backhoeffe a casserole that explodes from its container with a trio of meats, potatoes and leeks. Alsace is a marriage of fertile land tied together with its people, craftsmanship and cuisine.
Explore this rich culinary heritage with the following recipes for TarteFlambee, Alsatian Salad, Coq Au Riesling and Fromage Blanc Tarte. Fill a glass with crisp Riesling or hoppy lager and enjoy a cuisine that is strongly tied to its land people and history. Until Next month, Bon Appétit. 
Tarte Flambee or Flammekueche
When I first started planning this class every student I talked to said this was a must do dish. It is rustic and revolves around atypical Alsatian ingredients: slab bacon, fromage blanc, caramelized onions and crème fraîche. This tart lets you know you are in a fertile culinary landscape. Simple, yet rich, it is a great starter that pairs well with beer or wine.
Ingredients
2 1/4

cups

flour

1/4 separated for starter

1/4

cup

100 degree water

1

tbsp

sugar

1

package of yeast

1/4

beer

1/4

cup

plus 2 tbsp milk

1

tsp

salt

1

onion

julienned and caramelized, cooled

4

oz

slab bacon

cut into lardons and cooked until crispy (Lardon is a strip or cube of fat or bacon used in larding meat)

1

cup

crème fraîche

seasoned with salt pepper and nutmeg
Instructions
To create the dough, make the starter: Mix ¼ cup flour ¼ cup, 100 degree water, 1 tbsp sugar and 1 pkg yeast. Let rest in warm spot 3- minutes. When frothy, add ¼ cup beer and ¼ cup milk, plus 2 tbsp.

In food processor add 2 cups flour and 1 tsp salt. Slowly add yeast mixture to flour. Process until ball forms. Do not over mix. Let rest 30 minutes. Roll out into very thin rectangle.

Make the topping. Add cooled onions to crème fraîche. Spread over crust, sprinkle with sprinkle with lardons and fromage blanc. Bake at 450 degrees for 20 minutes.
Alsatian Salad with Homemade Vinaigrette
Ingredients
2

heads Bibb lettuce

4

oz

jambon diced

Jambon de Paris is a wet-cured, boneless ham, which is served cold in thin slices

5

oz

garlic sausage

cut into thick half moons, warmed

4

hard cooked eggs

2 to

matoes wedged

2

lbs

small waxy potatoes

cooked quartered, kept warm

8

oz

gruyere

diced

1

onion

sliced

Chopped parsley

2

tsp

Dijon mustard

2

tbsp

white wine vinegar

5

tbsp

olive oil
Instructions
Arrange torn bibb lettuce leaves on plate. Top with warmed potatoes and sausage then gruyere and ham. Garnish with egg quarters, tomatoes and onion. Drizzle with vinaigrette and parsley.

Mix 2 tsp Dijon mustard with 2 tbsp wine vinegar and 5 tbsp olive oil. Season. Mix well. Serve with neutral white wine like Pinot Blanc.
Coq Au Riesling with Alsatian Spaetzle
This is the Alsatian variant of the French classic Coq Au Vin. Alsace is famous for its Riesling wine so it is natural that the crisp white replaces the hearty red in this version. Finished with a hint of crème fraiche or cream and served with spaetzle, this dish can be at home on a farmers table or local brasserie.
Ingredients
1

stewing hen

cut in 8 pieces

3

onions

julienned

8

oz

slab bacon

cut in lardon

1

lb

mushrooms

quartered

2

tbsp

butter

Sprigs of thyme

1

bottle Riesling

Chicken stock

7

eggs

1

kilo Semolina

salt
Instructions
In Dutch oven, melt butter. Add lardons and cook until crispy. Remove and reserve.

Season hen with salt and pepper. Brown 3-5 minutes each side. Remove patting off excess fat.

Add onions and mushrooms to pan. Cook until softened.

Deglaze with wine, scraping pan to add flavor to the sauce. Add fowl back in. Add thyme. Cover bake at 350 degrees for 40 minutes.

Add bacon back in. cook 15 more minutes.

Remove chicken to platter. Garnish with bacon, onions and mushrooms.

To the pan, reduce liquid. Add crème fraiche and parsley. Pour over chicken.

To make spaetzle, combine 7 eggs with 1 kilo of semolina and salt. Let rest, then cut with a knife into boiling water [or use a spaetle maker]. Serve with the chicken.
Tarte Fromage Blanc with Stewed Rhubarb
Ingredients
1⅓

cups

flour

½

cup

butter

1

tbsp

sugar

1

tbsp

oil

¼

cup

water

Pinch

salt

1

lb

fromage blanc

3

eggs

separated

⅔

cup

superfine sugar vanilla scented

1

lemon

zested

⅓

cup

heavy cream

3½

tbsp.

cornstarch

2

lbs

diced rhubarb

1½

cups

sugar
Instructions
First, make the crust. In a bowl, combine 1 1/3 cups flour, 1/2 cup butter, 1 tbsp sugar, 1 tbsp oil, and a pinch of salt. Work dough until it resemble bread crumb. Slowly add 1/4 water until dough forms.

Let the dough rest one hour. Preheat the oven (see note). Roll out thin and line deep tart pan. Prick crust with fork and refrigerate 10 minutes. Bake 10 minutes [Editor's note: Based on other recipes, we suggest a 375 to 400 degree oven]. Cool. Fill with cheese mix.

To stew the rhubarb, combine 2lbs of it, diced, with 1 1/2 cups of sugar. Cook covered on low heat for 1½ hours.

Make the tart filling. Preheat the oven to 400. In a bowl, mix cheese cream, superfine sugar, egg yolks, and lemon until smooth. Whip the egg whites until stiff and fold them into the cheese mixture. Pour into the prepared crust. Bake the tart at 400 for 40 minutes. Cool and serve with stewed rhubarb.
Notes
Persnickety Note: the French peel their rhubarb and asparagus. If you are expecting red rhubarb don't peel it.