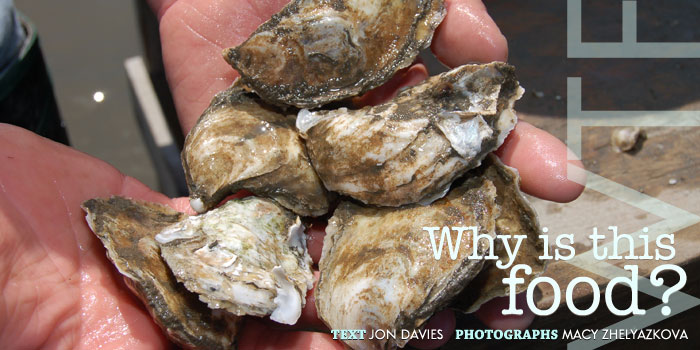 Fried Oysters
Some foods we eat are a mystery to me.
I am not talking about the strangely textured mystery-meat loaf in the average school lunchroom or my Dad's ill-fated spam stir-fry. I am not even alarmed about the different animal parts or innards that are consumed in different parts of the world. I am not going to go on a Persnickety rant about molecular gastronomy and truffle infused air or wasabi melon infused foams ruining modern cuisine. I am just wondering how our ancestors determined that some things were going to be good to eat.
People were skeptical of tomatoes until the early 19th century yet they ate blood sausage and tripe, like kids today eat chicken nuggets and potato chips. There are some foods that I just shake my head about and ask myself, who was the first daring soul who thought, "Hey I know this looks strange, but I bet it tastes really good." How desperately hungry or inquisitive were the first people to put the following items on their bill of fare?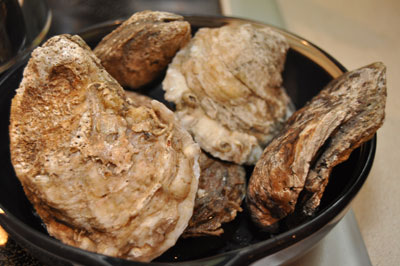 Oysters: Jonathan Swift the 18th century humorist and satirist is often credited with saying, "What a brave man who first ventured to eat an oyster." How hungry did a person have to be to dig in the muck and mud and pry open the hard shell to reveal the small slimy treat that awaited them inside? They probably didn't even have lemon or cocktail sauce. However they were discovered, I am glad they are part of the culinary landscape. They are tasty and versatile. Oysters lend themselves to a variety of presentations. Raw or simply roasted until the shell pops slightly open are two of my favorite ways to enjoy the briny bivalve, simply adorned with fresh lemon and horseradish. The tastiest oyster preparations are to deep-fry them. As a dinner, on a po'boy sandwich or in South Jersey style with a side of chicken salad, fried oysters taste great. I doubt the first person to dig up and consume an oyster imagined all the ways they have been prepared by creative chefs over the centuries.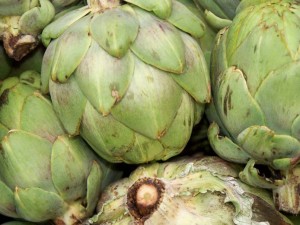 Artichoke: If the person who first ate an oyster was adventurous the discoverer of the artichoke had to be near starvation. The modern gourmand may look at this odd-shaped vegetable and drool at the thought of the sweet tender treasure beneath its armored leaves, but who was initially hungry enough to penetrate its outer walls and thorny thistly choke to reach the tender heart at its center. To many cooks artichokes are more trouble than they are worth. Many resort to using the tinny tasting canned variety. If this is the only way you have enjoyed artichokes, you have been denied true pleasure. The palate-pleasing flavor of the sweet choke is worth the sweat and effort it takes to prepare and eat an artichoke. Simply steamed, accompanied only by butter and lemon, is the purest way to enjoy an artichoke. If you must dress them up a little a garlicky bread crumb stuffing works well as does crabmeat or sausage.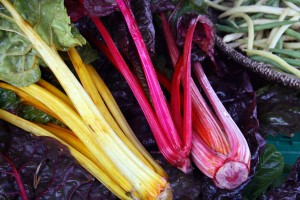 Rhubarb: The first person to eat rhubarb had to have serious issues. The leaves are poisonous. The stalk is fibrous. It takes forever to cook and its natural flavor is more bitter than my soul. Yet in the hands of a patient cook, this vegetable yields a flavorful result. Long used as an herbal remedy in Chinese medicine, rhubarb was declared a fruit by New York courts for reasons of import duties. Whether rhubarb is called a fruit or a vegetable, it is worth the effort in the kitchen. When cooked with copious amounts of sugar for a long time the stringy bitter stalks yield a flavorful final product. It pairs well with strawberries in pies or with red wine over ice cream or cheesecake.
Our culinary adventurous ancestors have cleared the way for us to enjoy foods we may otherwise pass over. Not all food is what it appears from the outside. Join in exploring strange looking foods with this month's recipes for Fried Oysters with Roasted Garlic Horseradish Aioli, Stuffed Artichokes Italian style and Red Wine Rhubarb topping for cheesecake or ice cream. Until next month, Bon Appétit!
Fried Oysters
Ingredients
2

dozen large shucked oysters

drained

4

eggs beaten with 3 tbsp heavy cream

3

cups

self-rising flour mixed with 2 tbsp Old Bay® Seasoning

1 tbsp granulated garlic and 1 tbsp pepper

3

cups

panko bread crumbs mixed with 3 tbsp chopped parsley and kosher salt

Corn oil to fry in
Instructions
Pat oysters dry

Dredge in seasoned flour, carefully shaking off excess

Dip in egg wash, then in bread crumbs

Fry in 350° oil for approximately 5 minutes

Drain on paper towels, lightly salt
Horseradish Roasted Garlic Aioli
Ingredients
2

heads garlic

roasted and cooled

4

tbsp

horseradish

3

egg yolks

Juice and zest of three lemons

3

tbsp

chopped parsley

3

cups

corn oil

Salt and Tabasco® to taste
Instructions
In bowl of food processor combine all ingredients except oil, mix until smooth

Slowly drizzle in oil until all oil is absorbed

Season and chill.

Serve with oysters or other fried food
Stuffed Artichokes
Ingredients
4

artichokes

3

cups

Italian bread cubed

½

cup

loccatelli cheese

5

anchovy filets minced

1

lemon juiced

7

cloves

garlic minced

4

tbsp

olive oil
Instructions
With kitchen shears, trim all pointed outer leaves of artichoke trim stem.

Open artichokes up by pressing firmly point side down on cutting board.

Soak for 15 minutes in salted cold water

Use spoon to remove furry choke.

In bowl, combine all remaining ingredients. Stuff in leaves and center of each artichoke.

Place on rack in Dutch oven with enough water to cover bottom of pan but not touch artichokes. Cover. Bring to boil. Reduce to low heat. Steam for 55 minutes or until leaves pull away easily.

Drizzle chokes lightly with oil every fifteen minutes while steaming.
Stewed Rhubarb
Ingredients
2

lbs

diced rhubarb

The French peel their rhubarb and asparagus. If you are expecting red rhubarb, don't peel it.

2

cups

sugar

3

cups

cabernet sauvignon
Instructions
Cook covered on low heat 1½ hours.