Some foods just get taken for granted. Some items are so readily available why inflict aggravation on ourselves by making it from scratch? In that question lies the difference between those who eat to live and those who live to eat. A passion for food allows you to notice the subtle differences between a homemade product made with love and that which is mass produced in a factory. Pasta is one of those foods. We have become too accustomed to the mass-produced version. Fresh pasta is simple to make and brings that soul-satisfying fulfillment that is only achieved by making something with your own hands.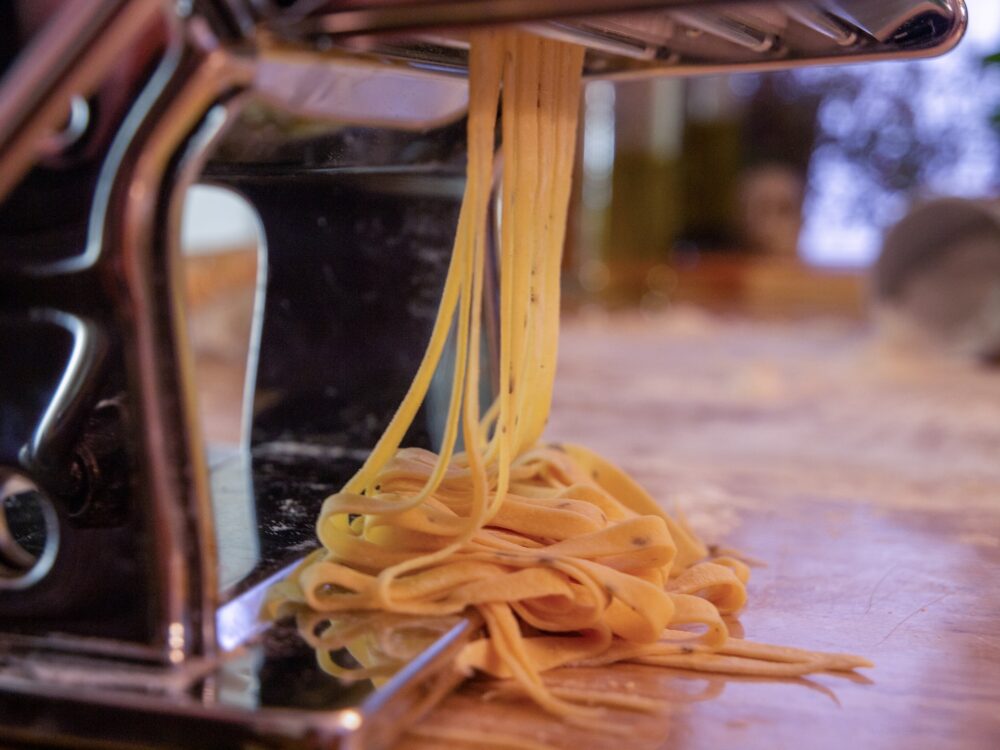 In its simplest form, homemade pasta dough can be made with just oil, water, salt, and flour. Like any craft project, the more you delve into making pasta the more complex your creations can become. The quality of the ingredients does make a difference. However, basic serviceable dough can be achieved with the all-purpose flour found in most every kitchen cupboard. Kitchen stores and magazines will try and tell you need the latest chrome-coated 50 horsepower pasta maker with variable speeds and a flashing timer. Tell that to the legions of Italian Nona's that have been rolling out exquisite tender pastas for years. All you need is some counter space, a rolling pin, a knife and the two hands you were born with. If you already have a table-top mixer and a pizza cutter, use them. These items will ease some of the labor, but none of the joy of your finished product.
To make the dough, sift the flour and salt, onto a clean work surface. Work the oil and water, or eggs, into the flour and keep working until the dough comes together in a ball. Resist the temptation to add more liquid or flour. Using a mixer will shorten the process and reduce the risk of P.A.C.T.S, Pasta-Attributed Carpal Tunnal Syndrome. After getting the dough together, it is time to let the dough and your arms rest. This is a good time to prepare your sauce or have a cocktail. I usually opt for both. Many pasta shapes can be produced without fancy machines including, fettuccine, linguine, farfalle, and orchiette. The shapes can be lightly dried or cooked fresh. Boiling salted water, no oil, is all that is needed to cook your noodles. Fresh pasta cooks much faster than dried, so have a strainer and your sauce ready to go before dropping the pasta in the water. When tender (about 3-5 minutes), depending on shape and thickness, toss lightly with sauce and enjoy.
Here are two basic dough recipes and two quick simple sauces. Find the joy in making your own pasta. The effort will be realized by the taste on the end of your fork. Until next month, Bon Appétit.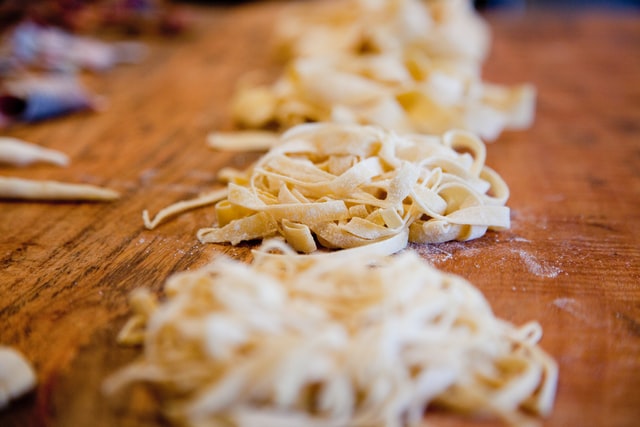 Basic Pasta Dough
Ingredients
2

cups

flour

3

large eggs

Pinch

kosher salt

2

tablespoons

olive oil
Instructions
Sift flour and salt onto board. Make a well in center.

Add eggs and oil. Incorporate eggs with fork.

Roll up sleeves and knead by hand until dough comes together. Continue kneading about 7 minutes until dough is smooth and elastic.

Wrap in plastic. Refrigerate to rest 1 hour.

Return dough to board. Cut in half. Roll each half into 1/8" thick sheets. Cut into thin strips for linguine, wide strips for fettuccine.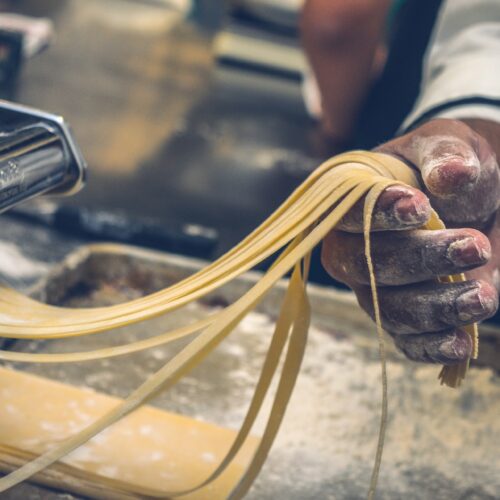 Semolina Dough
Ingredients
1½

cups

bread flour

1

cup

semolina

3

tablespoons

olive oil

2

tablespoons

cold water

Pinch

salt
Instructions
Make as above or put dry ingredients in mixer with dough hook attachment.

While on low speed incorporate remaining ingredients until dough comes together.

Mix on medium five minutes.

Wrap in plastic. Refrigerate 1 hour.

Return dough to board. Cut in half. Roll each half into 1/8" thick sheets. Cut into thin strips for linguine, wide strips for fettuccine.
Broccoli and Olive Oil Sauce with Fresh Pasta
Ingredients
3

cups

cooked pasta

2

cups

broccoli florettes

6

cloves

minced garlic

2

tablespoons

minced anchovies

1

teaspoon

red pepper flakes

¼

cup

Locatelli cheese

2

tablespoons

butter
Instructions
In large sauté pan, heat oil. Sauté garlic, anchovies and red pepper over high heat.

Add in broccoli and butter. Cook until broccoli is tender but still crisp.

Toss in pasta with a splash of water. Toss with cheese and serve with crusty bread and a glass of wine.
Quick Fresh Tomato Basil Sauce
Ingredients
8

cloves

garlic

minced

5

diced Roma tomatoes

½

an onion

minced

¼

cup

red wine

Salt and pepper

½

cup

fresh basil leaves

3

tablespoons

parmesan
Instructions
In sauce pan, heat oil and sweat garlic and onion until tender 3-5 minutes

Add red wine and tomatoes

Cook five minutes, adding a little pasta cooking water if needed.

Add basil and cheese. Toss with pasta.