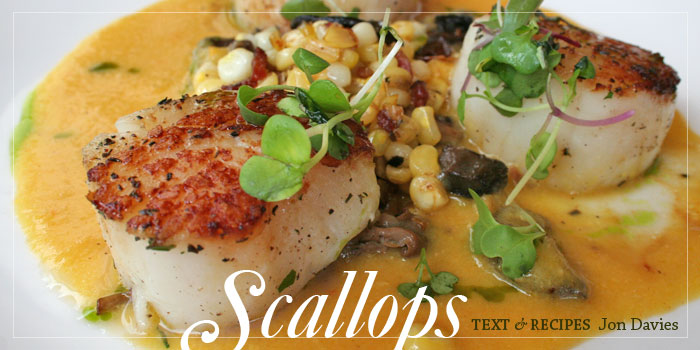 Transforming a simple protein into an entrée is often a chef's greatest challenge and joy. Some foods are limited with what they can be paired. Strong robust red meats need strong flavors, otherwise the sauce or side is lost in the meaty onslaught on the palate. Delicate foods require a similar treatment lest they be drowned out by their accompanying flavors. Foods that are neither strong nor weak in flavor provide a great canvas on which a chef can add flavor and texture armed with a palette of herbs, spices and supporting groceries. Local chefs and food lovers are blessed with an abundance of one of these types of proteins. Scallops, whether they are called Cape May or Jersey Shoal scallops, are a boon to local plates and palates.
When buying scallops, look for the dry-pack variety since they contain no additives. Wet-pack scallops are processed with sodium tripolyphospate prior to freezing which allows the scallop to absorb extra water. These scallops are less desirable for two reasons. First, the consumer is essentially paying extra for water weight. Secondly, when cooked, the scallops expel this water preventing caramelization and creating excessive shrinkage in the meat. Scallops are also sold by count per pound such as 10-12, 12-16 etc. The smaller the number in the size means the larger the scallop is on the plate.
Once you have purchased your dry-pack scallops, choosing the cooking method is your next decision. Scallops lend themselves to most any cooking method from grilling, pan-searing, deep frying, poaching or even baked. Pan-searing and grilling produce a wonderful caramelization of the outside of the scallop, which accentuates the natural sweetness of its tender flesh. Butter poaching keeps the scallop lily-white, but infuses the scallop with a rich buttery intensity and melt-in-you-mouth tenderness.
The neutrality of this bi-valve is the gift to the adventuresome chef allowing it to be paired with rich fatty accompaniments or tart acidic components with equal success. In the springtime, Jersey fresh leeks sautéed with slab bacon and a reduction of local red wine creates a flavor bursting palate pleaser. During the summer, local tomatoes can be transformed into salsas or bruschetta-inspired toppings that match up with a smokiness scallops take on when grilled. However you choose to prepare them, tread lightly with doneness. Cook the scallop medium. Overcooked scallops have the look and texture of pencil erasers.
This month follow my mantra of cooking with local products with global flavors. Enjoy these recipes for Butter-Poached scallops with tomato basil relish and pan seared scallops with mango green curry sauce. Until next month, Bon Appétit.
Butter-Poached Scallops
Equipment
1 medium, thick-bottomed saucepan

Slotted spoon

Prescription for Lipitor (optional)
Ingredients
2

lbs

unsalted butter

2

lbs

8-10 ct scallops

8

cloves

garlic

3

large sprigs thyme

Salt and pepper to taste
Instructions
Melt butter over low heat in saucepan

Add garlic and thyme. Bring to simmer.

Reduce heat slightly. Place scallops loosely in pan allowing liquid to cover, but move freely.

Cook for 6-8 minutes.

Remove with slotted spoon to warm plates. Repeat until all scallops are cooked.

Arrange on plate top with Tomato-Basil Relish and drizzle with reduced balsamic syrup.
Tomato-Basil Relish
Ingredients
2

tomatoes

peeled and diced

4

cloves

roasted garlic

8

basil leaves

chiffonaded

4

tablespoons

Extra virgin olive oil

Juice and zest of 1 lemon

Salt and pepper to taste
Instructions
Mix all ingredients and chill. Serve with Butter-Poached Scallops.
Sauteed Scallops with Mango Curry Sauce
Ingredients
1

mango

diced

2 10-

oz.

cans coconut milk

1

shallot

minced

1

tablespoon

minced ginger

Juice and zest 2 limes

2

teaspoon

garlic

2

tablespoons

oil

8

mint leaves

chiffonaded

2

lbs

8-10 ct scallops

2

teaspoons

Vietnamese fish sauce

1

tablespoons

green curry paste

more per taste, if desired
Instructions
In large sauté pan heat oil & sear scallops, 4 minutes per side over high heat. Remove scallops. Keep warm.

To same pan, add ginger, shallots & garlic. Sauté until softened.

Add curry paste. Lightly brown.

Add coconut milk and fish sauce. Reduce by half until sauce is thickened and coats back of spoon.

Add half of mango, mint, lime juice and zest.

Spoon sauce on plate. Place scallops on top. Garnish with remaining mango and a few mint leaves. Serve with jasmine rice.