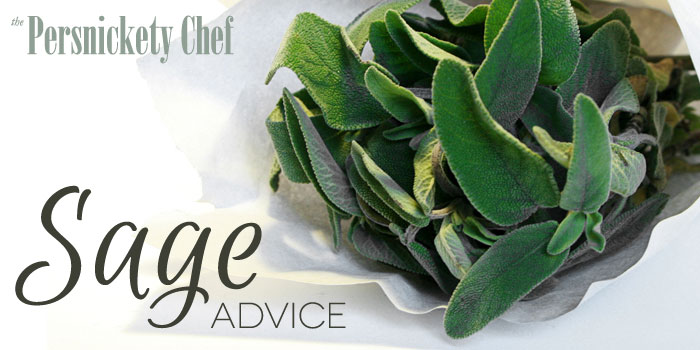 Fresh herbs are more plentiful to the consumer than they have ever been. I remember a time when herbs resided in a kitchen cabinet. Fresh herbs can now be found in the local store and on the kitchen window sill. The difference between fresh herbs and dried is like looking at a painting of the ocean, versus sitting on the beach and absorbing it with all your senses. Dried herbs enhance food. Fresh herbs awaken the dish. Most fresh herbs bear little resemblance to their dried counterparts. There is a nuance and complexity to fresh herbs that explode onto your taste buds. This contrast is never more evident than in the use of sage. In the dried state, sage has the appearance of dryer lint and a musty flavor that scars taste buds every Thanksgiving, often the only time it emerges from the dark corners of the spice shelf.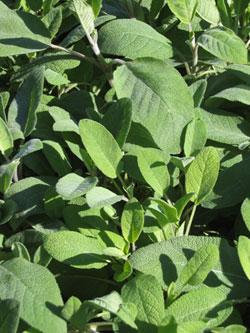 Fresh sage has a grayish green hue and furry texture that implies a mystery to the senses. The aroma of sage isn't fully revealed until you rub the leaves releasing the sweet earthy scents trapped within its pores. Sage was revered by the Romans as a medicinal herb. In the middle ages it was so prized by the Britons that it was enshrined in song as one of the four essential herbs alongside parsley, rosemary and thyme. In cooking it has been widely used for centuries in the Mediterranean providing the jump in Saltimbocca, the Italian classic translates as jump into the mouth, and is essential in sausages and poultry stuffing. The last two are the way most American palates are introduced to the flavor of sage.
Sage offers so much more to the palate than seasoning for dried bread and ground pork. One of my favorite combinations is sage and brown butter with butternut squash or roasted sugar pumpkins. The hazelnut tones of the lightly brown butter are exposed in sharp contrast to the musty sweetness of the aromas and flavors exposed when sage's essential oil are released. These flavors are bridged by the caramel earth tones of winter squash like butternut, acorn or pumpkin. This symphony for the senses makes a wonderful side dish as a vegetable, or mixed in risotto. The squash can be mashed or pureed and used as a platform for braised or roasted meats. A favorite first course for a fall menu is seared scallops on a pumpkin puree with sage and brown butter.
It is of little wonder that sage has become a synonym for wise and knowledgeable as these are the attributes of the cook who can incorporate the unique qualities of sage into their repertoire. This month discover what ancient cultures knew about sage with these recipes for Saltimbocca, Seared Scallop on Sugar Pumpkin Puree with Sage and Brown Butter and Sage and Butternut Squash Risotto. Until next month, Bon Appétit. 
Chicken Saltimbocca
Ingredients
4 6-

oz.

chicken breasts

trimmed

4

slices

prosciutto

8

sage leaves

1

lemon

juiced

2

Tbsps.

marsala wine

2

cups

chicken broth

Salt and pepper

4

Tbsps.

olive oil
Instructions
Season chicken with salt and pepper.

Top each breast with two sage leaves, then top with prosciutto slices.

Cover with plastic wrap and lightly pound with meat mallet on both sides.

Heat large sauté pan over medium heat, add olive oil.

Sauté chicken in oil , prosciutto side down. Sauté 3-5 minutes per side until golden brown remove to platter and keep warm in oven.

Lower heat on pan and deglaze with marsala. Scrape pan with wooden spoon.

Add stock and reduce by half.

Season with lemon juice and pour over chicken.
Scallops over Sugar Pumpkin Puree with Sage and Brown Butter
Ingredients
1

sugar pumpkin

split and seeded

4

u-8 scallops

8 -10

sage leaves

thinly julienned

Juice of 1 lemon

Salt & white pepper

7

Tbsps.

unsalted butter

2

Tbsps.

vegetable oil
Instructions
For puree, split and seed pumpkin.

Roast flesh, side down at 350 degrees for 45 minutes.

Cool slightly. Scrape pumpkins and puree with 3 Tbsps butter, salt and white pepper to taste.

In sauté pan, heat oil, sear scallops 4 minutes per side.

Place on plate on top of pumpkin puree.

In same pan, heat butter over medium heat until it starts to foam and brown immediately.

Add sage and lemon juice. Spoon lightly over scallops.
Sage and Butternut Squash Risotto
Ingredients
2

cups

Arborio rice

4-6

cups

chicken stock

2

cups

roasted butternut squash puree

3

Tbsps

chopped sage

¼

cup

butter

¼

cup

grated locatelli cheese

1

onion

minced

3

Tbsps.

olive oil
Instructions
In deep sauté pan, heat oil on medium-high heat.

Add onion. Sweat until softened.

Add rice. Coat with oil and lightly toast.

Ladle hot stock over rice until it is covered. Stir with wooden spoon until liquid is absorbed. Repeat until rice is al dente.

Add squash puree. Stir well.

Incorporate butter, cheese and sage season with salt and pepper. Serve hot.