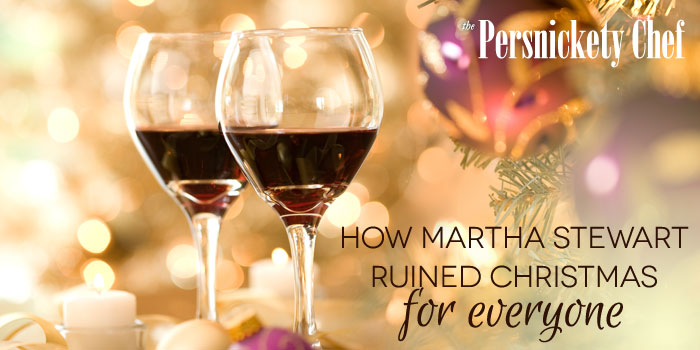 It isn't her fault. Martha Stewart is not part of a secret anti-Christmas cabal with evil plans to suck the joy out of the Holiday season. She was really trying to help by exporting her provincial Connecticut perfectionism to the rest of the country, and she made it look so easy. Her books and television shows reveal a Christmas tableau that makes a Norman Rockwell painting look like a neurotic mess in comparison. I have personally seen the damage inflicted by those who dared to replicate her repasts. The scene usually involves a suburban housewife hunched over her brand new Kitchenaid mixer filled with limp egg whites that never achieved a stiff peak, a crumpled copy of Martha Stewart Living in one hand, and an empty bottle of single malt clutched in the other. Don't despair: you don't need millions stashed away from insider trading to have a fabulous Christmas meal.
Keep it simple. The holiday meal is more about the people around the table than the food on the table. Your family and friends are probably content with the standard dishes and wouldn't appreciate the Martha-inspired Moroccan-spiced-rubbed truffle-infused Turkey Wellington anyway.
There are ways to elevate your meal without going broke and forcing your family to sneak out to WaWa for a gobbler hoagie. Adding new side dishes and desserts to the meal are a way for the aspiring cook to spread their culinary wings without additional stress. Variations on cranberry sauce are endless and easy to produce. Try adding dried fruit like cherries or figs to your base recipe. Play with a few different flavor profiles by adding balsamic vinegar or hot peppers. The Persnickety Playbook says, "When in doubt, add booze." Grand Marnier, port, or robust red wine can add flavor and spirit to the basic cranberry sauce.
Mashed potatoes are another side dish that can easily be enhanced. When making your mashed potatoes, add a few more spuds to the pot and divide the batch. Make one traditional and flavor the other half. If you are serving beef, horseradish, cheddar cheese and scallions will enhance the meal. Bacon really does make everything better, including mashed potatoes. Roasted garlic and Locattelli cheese will add a Tuscan accent. Adding mashed parsnips carrots and fresh sage lends farmhouse flair to roasted fowl.
Desserts are not my forte, but I have mastered a few that can be lightly tweaked that many people think I can actually bake. It is amazing how people react when you add a few chunks of quality chocolate to your basic pecan pie recipe. A splash of bourbon or a handful of cranberries and people may call you Julia or Martha by mistake. Bread pudding is another dessert that starts with a good base recipe and lends itself to improvisation. A can of cherries and a handful of chocolate turns the plain into Black Forest bread pudding. Whip some pumpkin into your custard base and some extra spice and cinnamon whip cream and you have suddenly become a culinary genius to your family.
Enjoy your time with family and friends this Christmas. Take inspiration from Martha and the Food Network crowd, but don't try and compete with their air-brushed images.  Instead, add some twists to practiced dishes with these recipes for Mashed Root Vegetables with Sage, Cranberry Cherry Chutney, and Pumpkin Bread Pudding. Bon Appétit, Merry Christmas and a safe happy New Year to all. 
Mashed Root Vegetables with Sage
Ingredients
6

Yukon gold potatoes peeled and quartered

4

parsnips

peeled and cut

1

rutabaga

peeled and chunked

5

carrots

peeled and chunked

Kosher salt

Black pepper

2

sticks butter

½

cup

sour cream

12

sage leaves coarsely chopped
Instructions
Put rutabagas and potatoes in pot cover with cold water. Add a pinch of salt. Bring to boil. Reduce to simmer. Cook until fork tender, approximately 25 minutes.

At same time cook carrots and parsnips in same manner as above.

Drain all vegetables.

Mash or whip in butter sage and season with salt and pepper.

Fold in sour cream.

Serve hot.
Cranberry Cherry Chutney
Ingredients
4

cups

cranberries

3

shallots

diced

1

cup

dried cherries

soaked in rum

1

orange juice and zest

½

cup

sugar

1

cup

water

3

Tbsp

cider vinegar

1

Tbsp

oil

Pinch

salt

Pinch

pepper

Pinch

allspice
Instructions
In a stainless steel saucepan, heat oil and sweat shallots until soft.

Add remaining ingredients. Bring to boil.

Reduce to simmer.

Cook until almost dry, about 30 minutes.

Serve at room temperature with turkey.
Pumpkin Bread Pudding
Ingredients
6

cups

cubed bread

1

cup

pumpkin

6

eggs

plus 1 yolk

2

cups

cream

1½

cups

milk

1

cup

sugar

1

tsp

cinnamon

Pinch

cloves

Pinch

nutmeg

1

Tbsp

vanilla

2

Tbsp

butter
Instructions
Heat milk and cream (do not boil).

Beat sugar and eggs.

Temper in cream.

Add pumpkin and spices.

Toss with bread cubes.

Let stand 10 minutes.

Pour into buttered casserole dish.

Bake for 45 minutes to 1 hour in 350-degree.

Oven cool slightly.

Serve warm with ice cream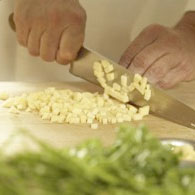 Jon Davies is a graduate of Johnson and Wales University of Culinary Arts. His work as a chef has taken him to Aspen, Colorado; Cape May, NJ; and the odd private jet for culinary gigs for the rich and famous.