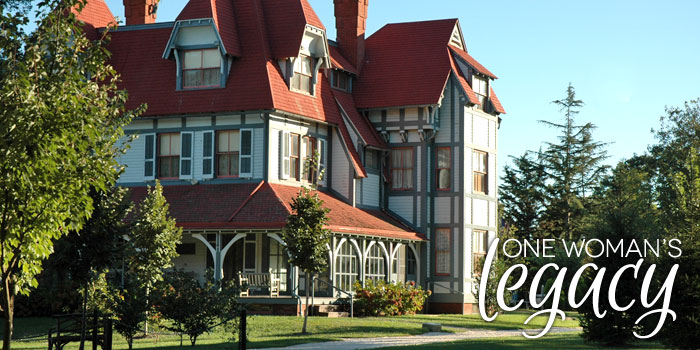 When Carolyn Pitts died in May 2008, few people in Cape May recognized her name. But, as a young college student and for years after, Carolyn made many trips to Cape May, spending hours documenting the architecture and fighting to preserve what she viewed as a unique town. Her one-woman-led fight for preservation put Cape May on the road to becoming the town we know today and provided a foundation for Carolyn's lifelong commitment to preservation. Cape May was but the first in a long string of nominations Carolyn made for the National Historic Landmarks program. By the time she retired (at the age of 82) with 32 years of experience as an architectural historian with the National Park Service, she had been responsible for conducting the studies for more than a quarter of the 2200 designated National Landmark sites. Pragmatic, always, in her view of preservation, she was fond of saying that "properties tell us where we've been and what we are and we ought to take care of them."
Summer after summer, often with friends or students whom she recruited for help, Miss Pitts (as she was known in Cape May) walked block after block of Cape May photographing, drawing and writing down building descriptions to create records of the unique architecture. One of her friends who helped record the buildings remembers being followed and questioned by police about who they were, what they were doing, and whether it was permissible to stand on a curb to write descriptions of a house. But this was the 1950s and not everyone knew about or favored preservation. In fact, only a handful of Cape May citizens saw any value in the old, out-of-date buildings. Back then, with a population almost double what it is today, Cape May had varied year-round businesses and industries, among them, car dealerships, appliance outlets, gas stations and service-oriented business. The money earned by townspeople from summer visitors during the short July and August season was neither a principal source of income nor the city's primary industry.
Unlike many of the townspeople, Carolyn was intrigued by the vast number of buildings of various architectural periods and styles, among them Colonial, Victorian and Edwardian, all contained within a relatively confined area. In her walks around town, she met Cape May residents who also appreciated the town's history and architecture. Sam Kahn, the then owner of the Ugly Mug at Washington and Decatur streets, was a supporter. Evening gatherings were held at the Ugly Mug where townspeople and these young preservationists shared information about the town's buildings and history while speculating about how these resources could benefit the town.
While Carolyn was focused on architecture, Dr. Irving Tenenbaum, a physician and lifelong resident, was promoting the economic benefits of preservation. In 1961, city council established the Cape Island Historical Celebration Committee to prepare for both the New Jersey Tercentenary (1964) and the Cape May Bicentennial (1966) and appointed Dr. Tenenbaum as chair. The Cape May Star and Wave regularly reported about the committee's activities including an early project with the Historic American Building Survey (HABS) and Cape May's selection as a site because of its "wealth of architecture which denotes many types of early 18th and 19th century styles." In early 1962, Cape May established the forerunner to the Historic Preservation Committee (HPC). Headed by Dr. Tenenbaum, the Architectural Advisory Committee was charged with advising and making recommendations to the Planning Board about historically important structures. At the committee's organizational meeting, Carolyn and two associates, artist Charlotte Gold and photographer Samuel Gray, educated the committee about the unique collection of intact 18th and 19th century styles represented in Cape May.
The Celebration Committee's first formal activity was establishing an historic district – probably Cape May's first. The district included 35 notable buildings ranging from the Blue Pig, (circa 1750) residence on North Street, not the restaurant in Congress Hall, and the Schellenger House (circa 1820) to the more notable Victorian style buildings such as the Victorian Mansion (1856; now called the Mainstay Inn) and the since-demolished Lafayette and Windsor Hotels. The district and the buildings were described in the Cape Island Historical Review, a booklet published by the Star and Wave during the summer of 1962, and each was physically identified by a plaque presented by the Chamber of Commerce. Later in that year, the portion of the historic district from Perry to Windsor streets and North Street to the beach was further defined by the installation of 30 gas lights. After a trial period with a few lamps, considerable discussion with the electric company, and negotiations with various state agencies, as Tenenbaum described in Cape May Magazine's summer 2007 issue "it eventually came to a vote and we won by a small margin."
The real catalyst for preservation was neither increased citizen awareness nor a town-adopted preservation agenda, but rather the infamous 1962 March storm where high winds, tides, and rains pounded the beachfront and much of the town in an event almost as catastrophic as the 1878 fire. In one short day, the town suffered more than $3 million in property damage. The storm hit everyone – businesses, year-round and summer residents. Before the storm, Cape May had survived half of the 20th century through "benign neglect" with little new development but with loyal summer residents who returned year after year, many to the cottages built by their ancestors. By the early 1960s, a once fashionable Cape May was not only dated and old-fashioned but severely damaged by the storm. Carolyn, Dr. Tenenbaum, and others saw opportunity in the storm's devastation.
The story about how preservation emerged from the storm depends on who is doing the telling. Cape May's rebirth from an out-of-the-way summer resort to a year-round tourist destination has been widely reported in the media and by people who were involved. Suffice it to say that there were two camps – preservationists and those who were more interested in tearing down the old to be replaced by the new. Generally labeled as the "ratable," this group's primary interest was to increase the City's tax revenues by building new motels and buildings that appealed to the post-war generation and would allow Cape May to compete with other resort communities such as Wildwood. Carolyn was a prime force behind the preservation group, which believed Cape May's economic salvation lay in preserving the architecture that made the town stand out from other South Jersey shore communities.
A second major event was the town's success in obtaining federal urban renewal funds, an effort that had actually begun prior to the storm and which culminated in a multi-year project to redo the town. In 1966, Cape May's successful use of federal renewal funds for preservation was illustrated in Woman's Day where it was reported that funds were obtained and used for preservation-based renewal on recommendation from the National Trust for Historic Preservation. Cape May was touted for recognizing that "at a time when most seaside resort towns feverishly tear down all evidences of history …..Cape May is spending $3,200,000 to maintain its lavender and old lace atmosphere." However, the picture may not have been quite that glowing. Reports from the Star and Wave and other local papers described ambiguous support for preservation. Only after several major structures were demolished in 1963 did Cape May adopt a master plan to guide urban renewal. The plan mandated a complete assessment of the town's historic resources with the understanding that a basic step to economic recovery would be use of existing buildings. In other words, buildings could not be torn down if rated as worthy of preservation.
The urban renewal project, begun in 1963, was directed toward a 77-acre portion of the town center labeled as the "Victorian Village," an area that roughly extended from the business district on Washington Street to the beachfront. Carolyn was hired to complete the first activity, a resources survey. Finished in 1964, the survey included maps and descriptions of all properties within the boundaries of the Victorian Village as well as some buildings that were outside the boundaries but judged as important to preserve. Carolyn was always dismayed that the 77-acre district could not be drawn in such a way as to encompass all the significant structures. The Physick house, too far from the town center, was outside the district, but the eastern project boundary was pushed to Franklin Street to include the Chalfonte Hotel. This 77-acre urban renewal area became Cape May's first local historic district, identified for many years as the primary historic district – not because it was more important, but because it was the first district. In 1968, Carolyn completed a second study which identified all the historically significant properties outside the urban renewal district boundaries.
Urban renewal was a major activity in Cape May from its 1963 beginnings through the early 1970s. By 1968, the project was in full swing. A Washington Street project office was established. Consultants were hired to help in planning and to assist residents in preserving their houses. A Historic District Commission was established. David Teel was hired as city manager because of his previous experience with urban renewal and preservation in Michigan. Energy was high with positive expectations for renewal benefits. "Our philosophy," Dr. Tenenbaum later recollected, "was that if we could offer the public something more to see than just the beach in two months during the summertime, perhaps we could extend the tourist season from early April until late October." Today's tourist industry had its initial roots in these ideas, hopes and possibilities, so tentatively expressed 40 years ago.
While some saw that history and buildings were what the public would come to see, not everyone was in agreement. In a booklet distributed to residents in the mid-sixties, the project was described as seeking "to eliminate slums and blight and their causes both through clearance and conservation and through historic preservation and new construction" – not exactly a whole-hearted preservation agenda. By 1967, 68 buildings had been demolished and more were relocated to make way for new construction. Several avoided the wrecker's ball, most notably the Pink House which is generally known to have been purchased by Tom Hand and moved across the street to land adjacent to the Star and Wave offices. Whole blocks of buildings were torn down for newly constructed motels, parking lots, apartment buildings, or shopping centers, often showcased because they were built in a so-called Victorian style. Some neighborhoods, described as slums, were virtually eliminated and replaced by parking lots or public housing. The battle lines were drawn between the "ratable" and preservation factions when a city council and mayor with little support for historic preservation were elected in 1965.
In a May 1966 Star and Wave editorial about the upcoming summer season, recent new construction projects – the Golden Eagle and Stockholm motels, Village Green, the new shopping center along the canal, and new stores adjacent to convention hall were highlighted accomplishments. Progress was represented as a process of demolition and new construction. Mounting concern grew about what would remain of the real Victorian buildings. When possible demolition of the historically significant Emlen Physick house outraged both full-time and summer residents, preservation interests were thrown to the forefront. The Victorian Village represented less than a tenth of city acreage. There were no protections for structures outside the Victorian Village and protections within the Village were greatly reduced when city council disbanded the Historic District Commission at the end of 1970. Based on a desire to obtain some protection for buildings throughout the city, a subcommittee of the Cottagers, led by Edwin C. Bramble, together with Carolyn nominated the entire City of Cape May (and a portion of West Cape May) as a district for listing on the National Register. Residents and city officials learned of Cape May's December 29th, 1970 designation as a National Register historic district by reading a late-January story in the Philadelphia Bulletin.
While some citizens happily received this news, then-mayor Frank Gauvry, and members of city council were anything but positive in their response. A strong rumor at the time was that information was leaked to the Philadelphia paper since city leaders were not going to announce the designation. The announcement delay was explained in a January Star and Wave story as being confusion among the state's federal representatives. "U.S. Senator Clifford Case had decided to let Rep. Charles Sandman make the announcement" but Sandman's office denied having received the announcement (although others had received copies of the National Park Service letter to Sandman). Sandman later attempted to use his Washington influence to have the designation reduced in size and scope and also tried to have the designation rescinded entirely because the town government had not been consulted. In March 1971, Sandman's Legislative Assistant, Fred Caldron, sent the National Park Service (NPS) a copy of draft legislation that Sandman was considering introducing in the House of Representatives if NPS did not make administrative changes Sandman had suggested earlier. Primary among these changes was a requirement for approval by city government or private citizens before National Register designations were granted. Owner or city approval prior to nomination was not adopted at that time, but was incorporated into the nomination process more than 10 years after the Cape May incident.
At the heart of Mayor Gauvry's outrage about the National Register controversy was the Gauvry-supported Victorian Towers project which involved demolishing an entire block of stores so that the Catholic Diocese of Camden could build a six-story apartment complex to provide housing for elderly residents. A month after the designation was announced, Gauvry went so far as to say that "designation of an entire community as a historic site would destroy a balanced community." He found no fault with the facts contained in the Register application but when interviewed for a 1986 Wall Street Journal story, Gauvry did find fault that the application was filed by "carpetbaggers who cared little for the town's real problems" and who acted "legally but surreptitiously." By May 1971, the Star and Wave quoted Gauvry as saying that the city was considering suing Bramble and Pitts because "it was those two individuals who drew up the petition for applying for Historic Site designation." But the weekly reports on the controversy somewhat waned by the end of the summer when a significantly scaled down and revised version of the original Victorian Towers plan was approved. Mayor Gauvry and council did not just verbally talk about the designation negatively, but also took local action against preservationists. In the month after the announcement of the Register designation, city council reneged on arrangements to allow preservation supporters to purchase the Physick estate. How the Mid-Atlantic Center for the Arts (MAC) members successfully pulled the house out of the fire is a story all by itself.
The Cape May saga quickly became national news. Most major east coast papers from Boston to Washington published at least one story on the "pro-preservation" versus "progressive development" polarization of the town. Finally, the battle climaxed with the election of a pro-preservation mayor, Bruce Minnix, who ousted Gauvry in 1972. "The delicate balance between opposing forces in Cape May," Carolyn wrote in a 1983 history of early preservation efforts "encouraged preparations to document what might be destroyed." Documentation was accomplished by Historic American Building Survey (HABS) teams that spent four summers (1972, 1973, 1974; 1977) in Cape May drawing, photographing and recording the notable buildings. The Windsor Hotel, slated for demolition by the City in 1972, barely had drawings completed by an ad-hoc team of University of Pennsylvania students before burning to the ground. The historical background research from the summer teams was later used by team-member George Thomas to publish the now classic and widely recognized 1976 book, Cape May: Queen of the Seaside Resorts. Drawings and photographs from the architectural work were used as the basis of the Cape May Handbook, a 1977 publication distributed free of charge to residents who attended city-hosted preservation workshops. Carolyn was greatly amazed by the Handbook's continuing popularity and the high prices commanded in recent years when a copy ever so infrequently would appear on Ebay.
Minnix's last action as mayor was to accept the 1976 National Landmark designation on behalf of Cape May. Preparing and submitting this nomination was Carolyn's final official act on behalf of Cape May. She had already moved to Washington, D. C. to join the NPS as an architectural historian and was already onto saving other notable buildings in other cities and towns across America. During the 30 years that she worked for NPS, she was profiled in more than 15 national magazine articles as well as in numerous articles in major newspapers such as New York Times and Wall Street Journal. She was responsible for "landmarking" many well-known American icons such as the Empire State Building and Frank Lloyd Wright's Fallingwater. Over her lifetime, Carolyn received many awards for her national contributions to historic preservation but what she enjoyed most was the fight to "pull things out of the fire of the developers," or help make things "go right" that were going wrong – skills she had more than honed in her decade of fighting for Cape May.
There was nothing that Carolyn loved more about preservation than stories about preservation. A great storyteller herself, she educated and mentored at least two generations of professional and lay preservationists by sharing her knowledge on any number of topics including history, architecture, and the "inside scoop." This story about what MAC's executive director, Michael Zuckerman, described as Cape May's "spectacular rebirth as a Victorian theme destination" did not occur because of the efforts of one person. Carolyn would have been the first to deny any singular importance in Cape May's preservation. She praised the work of the many ordinary people who with their own time and money transformed the town into what it is today – house by house by house. She would have shared her laurels with early pro-preservationists like Dr. Tenenbaum, Ann LeDuc, or Bruce and Corrine Minnix. And, she may have acknowledged her early role as a catalyst in mobilizing Cape May residents to take a stand, run for office, or form organizations such as the Mid-Atlantic Center for the Arts (of which she and others in the preservation "camp" were founding members). But she never would have said that Cape May turned out the way it did because of her efforts alone. Even today, credit for Cape May's ongoing preservation is rightfully shared among many people and groups, who but for Carolyn's tireless efforts 40 years ago, would never have had opportunities to either dabble in or economically benefit from preservation. Every one of us who is even just a little bit "preservationist" or who claims to "love Cape May" have Carolyn to thank for laying the foundation for ongoing efforts to preserve, revitalize, and enjoy Cape May.