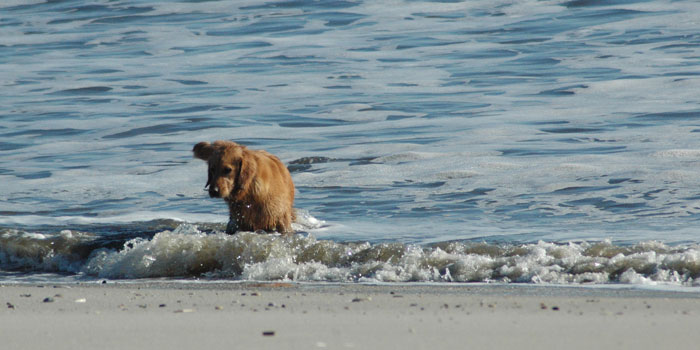 This Month's Good Read Recommendation: Thunder Dog by Michael Hingson, with Susy Flory. This is a true story of a blind man, his guide dog and the triumph of trust at Ground Zero. There is a great deal of information about being blind, our perceptions of being blind, and the strength, trust, and intelligence of guide dogs, especially, for Michael, Roselle. This book will bring to life memories and events we may not want to relive, but will give you new information and understanding of working together and moving forward.
***
Preparation! In this month's Good Read Recommendation one of the things we read about and more fully understand is the need for training – preparation – for guide dogs and the people they guide. The need for working together, training, so that both the human and the dog benefit from the team work. Likewise, as you begin to plan for your visit to Cape May, you want to prepare, to train, so you and your dog can have a wonderful, fun, and importantly, a safe vacation experience.
You may, like many others, be thinking about and/or making your reservations for a visit to Cape May. This planning ahead will insure that you have a place to stay and you should also be thinking about and/or making plans to insure that your dog will have a happy visit to Cape May as well. Planning for what you need to bring such as crates, special blankets/beds, food and water dishes, toys, covers to put on furniture if your dog likes to get on the furniture, food, collars, leashes, and identification tags/ information. In some incidences you may want to bring water from home or bottled water, but in Cape May, with our desalinization plant, we have the best water – better than bottled, and you won't be contributing to the plastics trash/recycling situation.
When you plan to vacation with your dog, which is such a fun experience for both you and your dog, do your homework. Talk to your vet to make sure you have any and everything you will need for your dog for their health. For their safety, make sure they can and will walk on a leash. This is the very best way to insure that your dog is near you, under your guidance and control, and therefore SAFE! Even if you visit the beach, you want to be able to insure your dog's safety by having the control to pull them away from the things that they may believe are "tasty" morsels but which may induce sickness – esp. drinking too much salt water. The harness worn by guide dogs serves as a tool for communication but also serves as a strong measure of safety for both the guide dog and the guided.
So, make your reservations to insure that you and your dog will have a place to stay, then start the preparations so you and your dog will have a fun, happy, and safe vacation. Cape May is so beautiful at all times of the year with so many advantages in each season: the quiet excitement of the birth of spring with blossoms, birds migrating north, hermit crabs laying eggs on the beach, whales heading to spring/summer feeding grounds (the whale watch boat is dog friendly!), visiting the Audubon Nature Center for lessons, walks and maybe purchasing plants, the Singer Songwriter weekend.
Then there is the busier, summer season of warm sun, dolphins playing in the surf, great restaurants (many dog friendly!), shows at two wonderful theatres, as well as entertainment in many of the restaurants. In the fall, again a little quieter but jam packed with fun, house tours, fall hawk and bird migrations, the whales now heading south to the breeding grounds, holiday shopping on the mall – hopefully by then with your dog(s). And, last but certainly not least, winter in Cape May you can enjoy a light snowfall in the parks, a visit to the wineries (which are dog friendly!), the warmth of a social warm mug at any of several local taverns with family and friends. And most important, through it all, walking and playing on the beach with your best friend(s) – your dog – leashed for the safety of the dog and for you.
Enjoy Cape May in any and all seasons. We're looking forward to having you visit with us, so start your preparations now. We'll see you soon and welcome you back often!