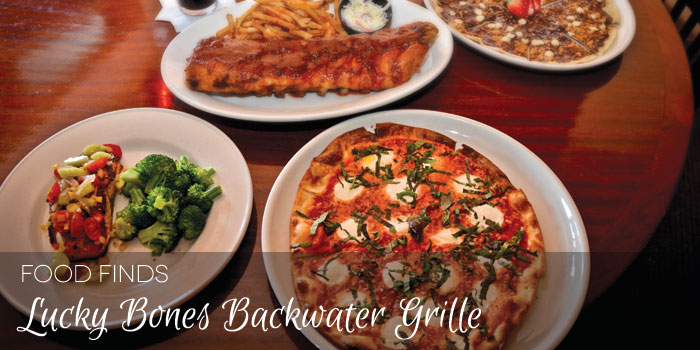 In their more intimate moments, male horseshoe crabs hang onto their mates with hook-like claws attached to their front legs. Back in Cape May's whaling days, superstitious watermen considered the claws good luck charms, and often took them to sea for protection. They called them "lucky bones."
The Craig family, long-time restaurateurs in Cape May, invoked the luck of the claw when it opened its newest restaurant, Lucky Bones Backwater Grille, in 2006.  They infused a new spirit into Cape May's increasingly sophisticated restaurant scene.  In a town full of fine-dining establishments, outdoor eateries and landmark bars, Lucky Bones carved out a culinary niche by serving gourmet fare in a fun, casual setting.
You know that when a restaurant is two-thirds full on a cold Tuesday night in February, it's doing something right. Obviously, Lucky Bones has charmed Cape May's year-round residents.
That night, my meal began with steaming-hot Butternut Squash Soup that was creamy and satisfying. My main course was Grilled Cuban-Spiced Rubbed Pork Chop, a specialty of the house that was lean, tender, and tantalizingly Caribbean. It was served with whipped sweet potatoes and red wine jus.  My friend started with the Rocket Salad, a mix of fresh arugula, olives, brick-oven roasted vegetables, shaved fennel, and fresh mozzarella, tossed in a green vinaigrette. Next she ordered the Seared Ahi Tuna, which she described as "scrumptious" and "cooked to perfection – not too rare and not too well done." Steamed vegetables and lightly seasoned couscous accompanied the fish.
I also paid a visit to Lucky Bones last summer. Typically, there's a wait for tables in summer, so I sat at the bar instead. Lucky Bones is at its most laid-back in the bar, particularly if there's live entertainment.  While the bar and restaurant share the same menu, Lucky Bones' comfort foods, which like the rest of its menu are made from scratch, taste particularly good when eaten at the bar.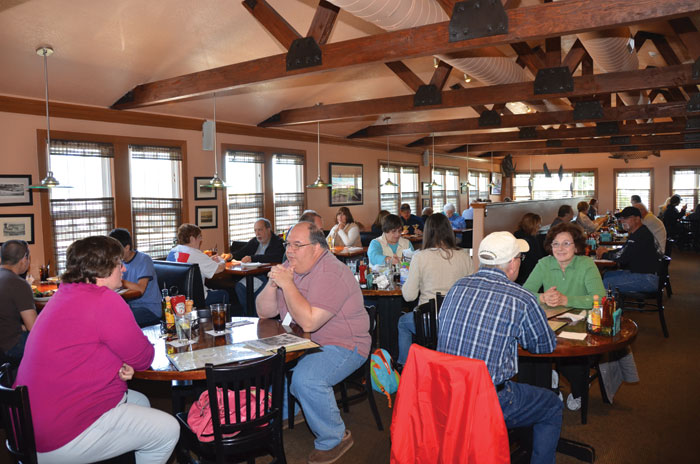 Lucky Bones' Oven-Roasted Creamy Spinach and Artichoke Dip, which comes with generous slices of home-made pita, is a great dish for breaking bread with friends. The Hand-Cut French Fries are sliced daily from Silver Creek Idaho potatoes, and are served hot and crispy. The Lucky Bones Burger is molded by hand from a half pound of USDA Choice ground beef; grilled and topped with bacon, mushrooms, and onions.
It's Lucky Bones' Margherita Pizza, however, that steals the show.  The tomato sauce, basil and fresh mozzarella pie rivals pizza at many of South Jersey's dedicated pizzerias. On a busy summer day, the restaurant's brick oven regularly turns out more than 120 Margherita pizzas.
Patrons should consider washing down their pizza with one of the 14 beers Lucky Bones has on tap. The restaurant added a popular new beer last summer, Honey Porter, made from clover and wildflower honey collected from beehives in Cape May County.  Lucky Bones is one of the very few restaurants to serve this specialty beer produced by Cape May Brewery. It sells out every week.
The vibe at Lucky Bones is fun, casual, and easy-going. However, there's nothing casual about how the staff is trained to deliver quality service. Taryn, our waitress on our winter visit, epitomizes the staff's professionalism, and elevated a great meal to a fabulous dining experience.
Lucky Bones' staff and owners work hard to keep the restaurant fresh, a mindset that led to the introduction of an extensive gluten-free menu in June, 2010.  The gluten-free menu is nearly as large as the restaurant's regular menu, and even includes two gluten-free beers.
Lucky Bones is also considering starting its day earlier. While a final decision hasn't been made, the restaurant is contemplating adding breakfast service this summer from Memorial Day through Labor Day.
With new and old ways to enjoy Lucky Bones' charms, the restaurant is gaining a loyal and growing following, which includes 5,000 members in its Lucky Loyalty Card Program.  Cardholders receive one point for every dollar spent on food and beverages, which can be redeemed for meals and prizes. One lucky loyalist accumulated 50,000 points  – the equivalent of buying 5,714 Margherita pizzas – which won him a trip to California's wine country.
Clearly, the "lucky bones" revered by Cape May whalers have not only brought good fortune to their namesake restaurant but also to Cape May's residents and visitors.