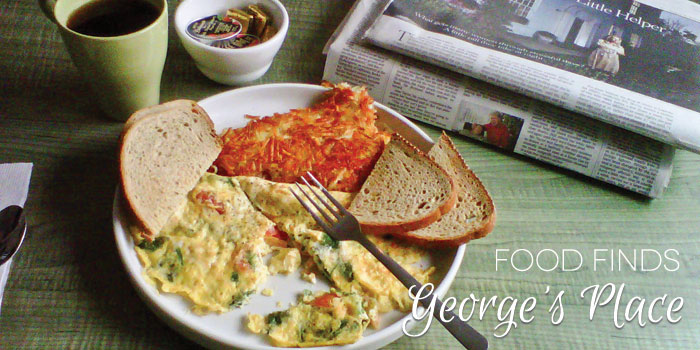 You know you've found the right place when a stranger, waiting on the sidewalk for a table at a restaurant, tells you, "You know, this is the best place in town." George's Place is a small 10-table Greek restaurant in Cape May that looks like a diner during the day and feels like a taverna at night. "Oopa!"– Greek for "Cheers" – is spoken here.
George Tsiartsionis opened George's Place in 1968, and has been serving breakfast and lunch for 34 years. He sold it in 2002, to his son-in-law, Yianni Karapanagiotis, who felt dinner service had potential and added it to the menu. Today, Yianni and his "kid" brother, Pete, own three restaurants – George's Place, offering Greek food; YB ("Younger Brother"), specializing in New American cuisine; and Pano's, a coffee shop on the Washington Street Mall they opened with their cousin.
A friend and I had dinner at George's Place earlier this summer. We made reservations, which I strongly recommend. The restaurant takes same-day dinner reservations only, starting at 5 p.m. It caps reservations at 30 per night, so anyone hoping to eat there had better start speed dialing then or put their name on the list in person. To its credit, George's is precise in setting reservation times, which minimizes waiting. Fair warning, though, late arrivals may need to search out another restaurant.
We arrived seven minutes early for our reservation. Yianni greeted us warmly at the door, welcomed us inside, and pointed to a clock on the wall, politely suggesting we return in seven minutes. Yianni is the big Greek personality who sets the tone for the restaurant. He is funny and irreverent and fond of saying to regulars, "Now don't give me a hard time," which they clearly delight in doing.
Our sidewalk enthusiast also gave a hot tip on an appetizer. "Get the flaming cheese," he suggested. "It's amazing, my wife and I get it all the time." Sold, we ordered it. Saganaki is a popular Greek appetizer consisting of grilled kefalograviera cheese doused with ouzo, then set on fire. It's served with grilled pita. The dish was wonderful, but the "fireworks" was the show-stopper. When the cheese is lit, the staff erupts in "Oopa!" and many of the diners from nearby tables, which is practically everyone in this smallish restaurant, join in. Ours was a five "Oopa!" night. It gets crazier, apparently.
"Once one is lit, the whole dining room says, "I want that,'" Yianni says, creating the potential for a 30- "Oopa!" night!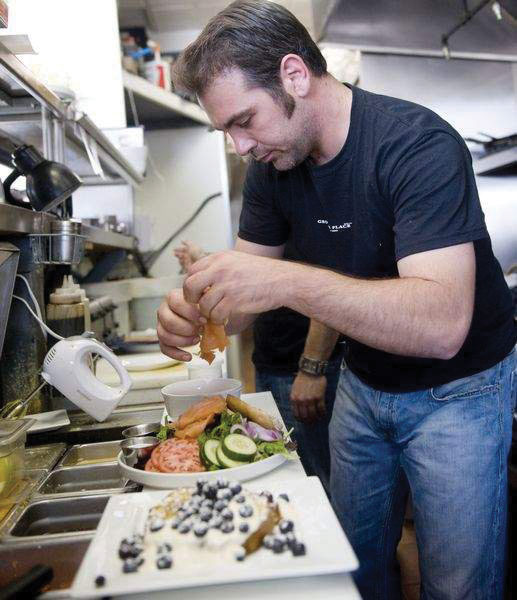 I had the Roast Pork Tenderloin next, Sliced Medallions of Meat marinated in lemon and peppercorns, with Eggplant Orzo (a rice-shaped pasta) and Greek Salad. The pork was tender and flavorful, but, served over a bed of orzo and salad, suffered somewhat of an identity crisis. My friend chose the Lamb Chops, five "lollipop" lamb chops, served with Eggplant Orzo, Tzatziki, a cucumber yogurt sauce and Greek Salad. He loved it. It's also George's most popular dish.
We went back to the restaurant a week later for breakfast. There was a 15-minute wait for a table and there were more families with young children on this visit, but, otherwise, our food was just as enjoyable and the service was just as friendly as before. We ate well. I had the Homemade Chipped Beef on whole wheat toast with hash brown potatoes. (I actually search out restaurants for chipped beef, which is not a pastime many of my friends share.) My friend ordered the Breakfast Quesadilla, with two eggs, turkey sausage, peppers, onions, cheddar cheese and tomatoes and mildly spiced salsa on the side. Both dishes were excellent and meal enough for the day.
George's only accepts cash, so come prepared. We hadn't known, but were impressed when our waitress graciously told us we could eat first and pay later, and pointed us toward the ATM next door at Uncle Bill's Pancake House.
Word of Cape May's small corner of Greece spread to The Food Network in 2010, which featured the restaurant on the show Diners, Drive-Ins, and Dives. The buzz has put even more people on the sidewalk.
"Instead of 40 people lined up at 4:45 each day, there were 100," Yianni says. Just imagine a 100-"Oopa!" night.
#####
George's Place is located at 301 Beach Avenue. It's open year-round for breakfast and lunch from 8 a.m. until 2 p.m. In season, it's also open for dinner from 5 p.m. until 8 p.m. on weekdays and 5 p.m. to 9 p.m. on weekends. In winter, it's open for dinner on weekends. The restaurant is BYOB. Call (609) 884-6088 for reservations.