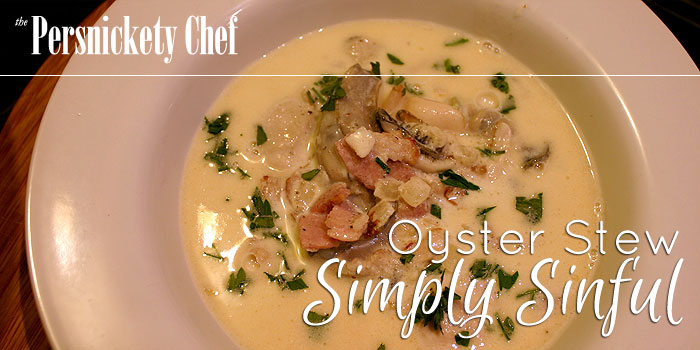 Some foods are just easier to work with than others. The flavors and textures are so perfectly created by nature that the chef's main job is to not screw it up. The oyster is a prime example –delicate in texture yet brimming with the saltiness of the sea and an earthy mineral flavor. The oyster needs little adornment, save for lemon, hot sauce and horseradish. Still chefs with our arrogance and conceit, part of our charm, think we can improve upon nature. With experience and seasoning in the kitchen, the good chefs learn to restrain this impulse and let good ingredients shine. Sometimes simple can be more powerful than an arsenal of spices and heavy handed techniques.
Oyster Stew is one such dish. I first experienced this nectar of the ocean in my grandmother's kitchen. Her cooking was peppered with the simplicity and frugality of someone who had lived through the Great Depression and wartime rationing. In a saucepan that had aged less gracefully than its master, she would methodically render the ends of bacon. The center pieces were always saved for the breakfast table. After draining some, but not all the fat, into the always present can on the counter, she would add the onion. Here I would be reminded to gently let it soften being sure not to let it brown. As the kitchen filled with scents of smoky bacon and sweet onion, the oysters would appear. Plump and freshly procured from Gaskin's market the whole pint, liquor and all, would hit the pan with a sizzle. The next step was executed with perfect precision only when the edges of the oyster had begun to retreat and curl would the cream be added. As the pot started to bubble, salt and pepper would be added. The finishing touch was butter, from the cupboard never the icebox, the golden gobs would slowly melt into the creamy foam.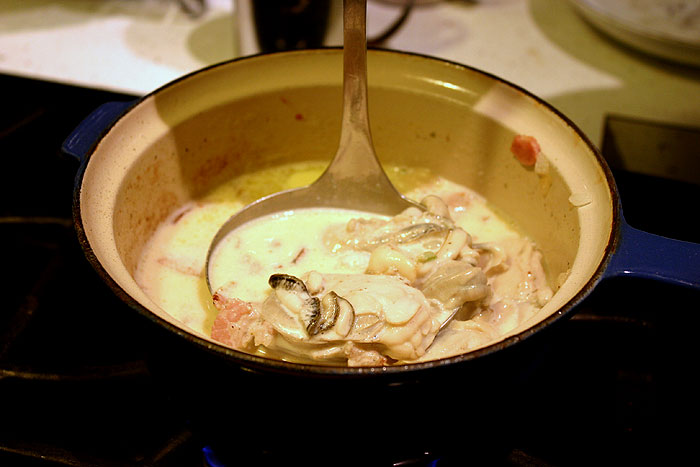 Pronounced perfect, she would ladle it into a bowl and serve it to her best friend, my grandfather. A smile of anticipation appeared as quickly as the bag of Trenton Oyster Crackers. These round hard biscuits seemed inedible on their own but my grandfather would crush two together in his hand and let the broken pieces fall into the stew, then he would savor every spoonful.
When I was finally allowed to partake of this dish, the flavor was ethereal. Straightforward and with no nonsense or adornment much like the woman who made it. Enjoy my re-creation of this simple dish. Until next month, Bon Appétit.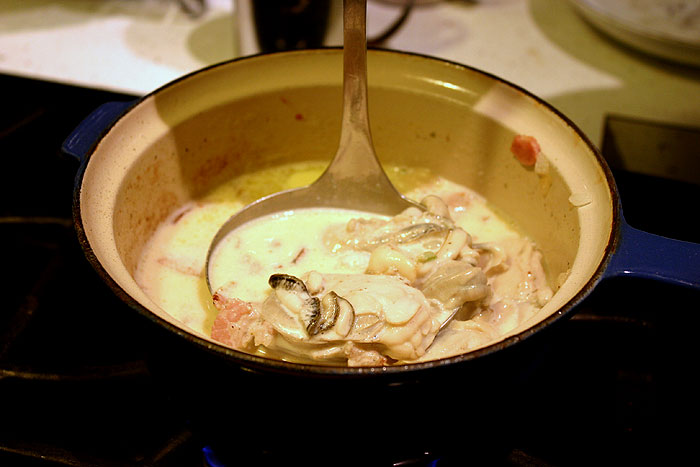 Oyster Stew
(Yields 2 man-sized portions)
Ingredients
6

slices

bacon

diced

½

pint

oysters with liquor

½

an onion

minced

1

pint

cream

Salt and pepper to taste

2

Tbsp

butter
Instructions
In sauce pan render bacon at medium heat.

Add onions. Cook until softened.

Add oysters and liquor. Cook until oyster edges curl.

Add cream. Bring to boil. Reduce to simmer.

Season with salt and pepper

Dot stew with butter. Let melt. Serve immediately.
Video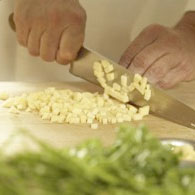 Jon Davies is a graduate of Johnson and Wales University of Culinary Arts. His work as a chef has taken him to Aspen, Colorado; Cape May, NJ; and the odd private jet for culinary gigs for the rich and famous.