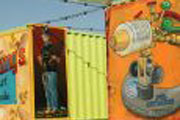 The Wildwood boardwalk is known for the gleeful screams of children on rides, the tram car and its long and free beaches. Now added to the list will be the ArtBOX.
The ArtBOX is a collection of 11 upcycled shipping containers on Adventure Pier. It now houses everything from art studios and an Exit Zero museum shop, as well as a new sushi restaurant called Tokyo 4B (the Wildwood exit number off the Garden State Parkway).  Tokyo 4B is operated by Tsong Lin, who owns several of the Middle Township restaurants, including Tokyo in Rio Grande.
The ArtBOX is meant to add an artistic experience to the Wildwood boardwalk. The target audience is both children and adults alike.
Jack Morey, executive vice president of the amusement-pier operator, and his brother Will have enlisted five regional artists, painters, glass blowers and more to set up shop, offering visitors a chance to interact with the artists and watch them at work The Exit Zero Museum Shop came to be when Jack Wright, the publisher of Exit Zero, joined with the Morey brothers to create the ArtBOX.
Morey has recruited five regional artists, painters, glass blowers and more to set up shop. Artists include Peter J. Bieling and his son Peter C. Bieling, both from Florence, Burlington County. Each will have their own shipping containers in the ArtBOX.
Last year, several of the containers were painted and this year the project took the next step. The ArtBOX opens July 2.