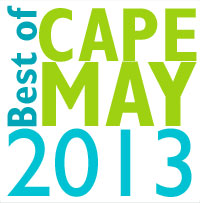 This was our 9th year running the Best of Cape May, and we were blown away by the number of votes! We introduced some new categories, brought back your favorites, and were pleased to see both new and familiar names among this year's winners. So, without further ado…
Best Places to Stay
Bed & Breakfast Inn: The Queen Victoria
Runner up: The Carroll Villa
Guest House: The Columbia House
Runner up: Antoinette's
Hotel: Congress Hall
Runner up: The Victorian Motel
Campground: The Beachcomber
Runner up: Holly Shores
Pet friendly: Billmae Cottage
Runner up: Marquis de Lafayette
Family friendly: The Victorian Motel
Runner up: La Mer Beachfront Inn
Best Shops
Women's clothing: Klothes Kove
Runner up: Cheeks
Men's clothing: Galvanic
Runner up: Pete Smith's Surf Shop
Beach wear: Great White Shark
Runner up: Pete Smith's Surf Shop
Jewelry: Splash
Runner up: Whale's Tale
Accessories: Whale's Tale
Runners up: SeaWeeds and Madame's Port
Shoes: Casale's
Runner up: The Shoe Rack
Candy and fudge: The Original Fudge Kitchen
Runner up: Morrow's Nut House
Gift Shop: Whale's Tale
Runner up: Sunset Beach Gift Shops
Home decor: Wanderlust
Runner up: West End Garage
Art: Washington Street Gallery
Runner up: SoMA
Furniture: Cape May Wicker
Runner up: West End Garage
Antiques: West End Garage
Runner up: Out of the Past Antiques
Best Restaurants
Coffee shop: Coffee Tyme
Runner up: Avalon Coffee
Breakfast: The Mad Batter
Runner up: George's Place
Brunch: The Mad Batter
Runner up: McGlade's on the Pier
Quick lunch: Hot Dog Tommy's
Runner up: Ugly Mug
Takeout: The Lobster House
Runner up: Hot Dog Tommy's
Burger: Ugly Mug
Runner up: Lucky Bones
Cheesesteak: Ugly Mug
Runner up: Westside Market
Pizza: Louie's
Runner up: Cappelletti's
Fine dining: Washington Inn
Runner up: Tisha's
Al fresco: Blue Pig Tavern
Runner up: Gecko's
Romantic: Washington Inn
Runner up: Peter Shields Inn
Kid-friendly: Lucky Bones
Runner up: The Rusty Nail
Seafood: The Lobster House
Runner up: Oyster Bay
Crabcakes: Freda's
Runner up: The Lobster House
Ice cream: Kohr Bros.
Runner up: Ben & Jerry's
Off-island restaurant: Harpoon Henry's
Runner up: The Harbor View
Cocktails: The Brown Room
Runner up: Martini Beach
Live entertainment: The Brown Room
Runner up: The Rusty Nail
Favorite bar: Ugly Mug
Runner up: The Brown Room
Happy hour: The Mad Batter
Runner up: The Rusty Nail
Best Things to Do
When it's raining: Shopping, winery/brewery tours
With kids: Cape May Zoo, beach
Winery: Cape May Winery
Runner up: Hawk Haven
Spa: Cape May Day Spa
Runner up: Sea Spa
Parade or festival: West Cape May Christmas Parade
Runner up: Lima Bean Festival
Place to go birding: Cape May Point State Park, Higbee Beach
Golf course: Cape May National
Runner up: Avalon Golf Club
Miniature golf course: Stockton Golf
Runner up: Sunset Beach
Watersports activity: Kayaking, body/surf boarding
Ghost tour: Ghosts of Cape May Trolley Tour
Runner up: Elaine's walking ghost tour
Water/boat tour: Cape May Whale Watcher
Runner up: Thundercat
Low-cost/free activity: Beach, biking, Cape May County Zoo
Must-do activity: Beach, climb the lighthouse, visit Sunset Beach
Daytrip: Ferry to Delaware, Cape May County Zoo
Favorite Victorian building: The Queen Victoria
Runner up: Emlen Physick Estate
Jessica is the Creative Director at Cape Publishing and reports on business changes and historic preservation in Cape May. Is there something going on that we should know about? Email news tips to jessica@capemay.com.