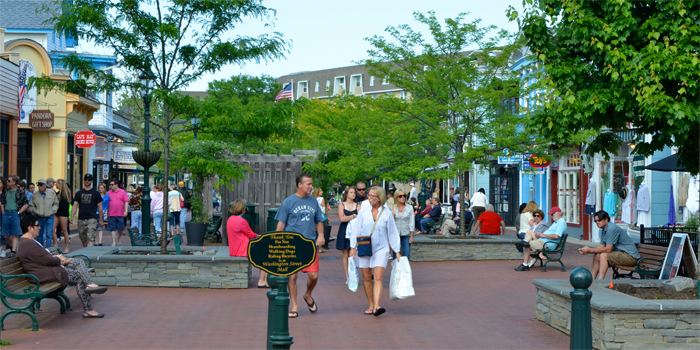 Every year, we round up the changes in Cape May that we've seen since last summer, including new businesses that have opened up, familiar names that have closed, and businesses that have changed location. This year, we're adding renovations into the mix. Is something missing from our list? Let us know and we'll add it!
Shops
Wave One is gone & replaced by Red Oak (Good Scent's sister store) on the 300 block of the Washington Street Mall
Sea Bags replaced Down by the Sea Shops down Liberty Way
El Paso Groceries is open in Liberty Way
Cotton Company has taken over the Klothes Kove on the 500 block of the Washington Street Mall
CM Peanut Butter Co is open (and fantastic) on Carpenter's Lane
Unanchored opened in the Beach Theater complex
Pink House Boutique opening on 2nd floor of the Pink House
Artists' co-op moved out of West End Garage and onto Sunset Boulevard
The Linen Outlet downsized and moved to a smaller location on Park Avenue
Amelia's Garden in West Cape May is gone
7-11 is closed
Manzoni Realty closed its doors end of April
B&Bs
Linda Lee no longer operating as a B&B
The Bedford Inn is temporarily closed due to a fire
It's rumored that the Summer Cottage is now a private rental
Restaurants
Martini Beach has reopened as M'Ocean, serving Pacific Coastal cuisine
The Gazebo Bar replaces the Finn Bar at Marquis de Lafayette
Jackson Mountain has been renamed Delaney's, an Irish Pub
Peter Shields Inn is buying The Pilot House; closing is scheduled for June. The Pilot House American Bar & Grille will be open this summer with a brand new food and drink menu. Full renovations are scheduled for January.
Beach House restaurant (formerly Henry's on the Beach) is now Angelo's
The Pier opens at the Lobster House for private events
Cappelletti's Deli is open on West Perry Street
Seaside Cheese moved into the old Linen Outlet on Park Avenue
Empanada Mamas has a location on Park Avenue
Ellie's Bakery moved into Seaside Cheese
The Laudemans (of the Lobster House) bought Mayer's and Captain's Cove
The Merion Inn, which was temporarily closed, is scheduled to re-open in June
(Added June 17) Sapore Italiano is opening where the Smokehouse was last year – the former Daniel's on Broadway
Sprucing up
The new brick project is finally finished on Carpenter's Lane
Colors got a new paint job!
So did we
Jackson Street got refinished
Bank Street's former Wawa is still undergoing renovations to become Homestead Real Estate
The wood mall benches are now wrapped in stone
The building that houses Henry's Jewelers was renovated front to back and expanded
Island Grill has rebranded itself as a farm-to-table restaurant
Peter Shields Inn has redecorated guest rooms by the designer from White
If you know of other changes in town, leave a comment below or Tweet us! We'll add it to the list.