This is our Valentine's Day post from 2018. For 2019 info, please head over to this blog post!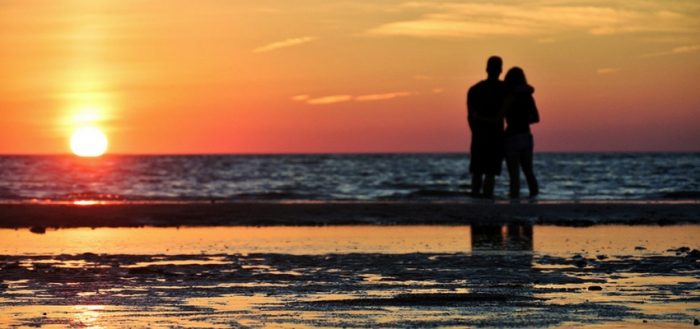 You might think of Cape May as a summer-only destination, but it's beautiful here year-round. Our off season is quiet, and there isn't as much to do during the week like there is in the height of August, but if you're looking for somewhere less crowded to spend Valentine's Day, keep us on your list. Here's our guide to what's happening this year.
Things to Do
Weekends: Winter Beer Garden at Congress Hall
Cozy up next to a firepit at Congress Hall's new Winter Beer Garden. Enjoy tabletop corn hole, light snacks, and local brews. Event details
February 11 & 18: Wine & Chocolate Wine Trail Weekend at Hawk Haven Winery
Hawk Haven is hosting their annual Wine and Chocolate Trail Weekend on February 18 from noon to 5pm. Enjoy wine and chocolate pairings while supporting local wine growers. Sponsored by the Garden State Wine Growers Association. Event details
February 14: Lunch & Learn – A Victorian Valentine: Love, Courtship and Marriage at Cape May United Methodist Church
Bring your own lunch for this hour-long talk about Victorian love, courtship, and marriage with Mary Stewart. $5 admission; free for MAC members. Begins at noon. Cape May United Methodist Church. Event details
February 14: Valentine's Day Couples Cocktail Class at Nauti Spirits Distillery
If you're looking for a hands-on activity for two, sign up for a cocktail class at Nauti Spirits Distillery. Learn how to make 3 different cocktails and the basics of bartending. February 14, $50 per couple. Space is limited. Must be 21+ to attend. Event details
February 17: Chocolate Lovers' Feast at the Blue Rose Inn
Are you looking for more chocolate in your life? How does seven plated chocolate desserts sound? $40 per person; reservations recommended. Event details
February 17: MAC presents the Cape May Wine Trail
The Cape May Wine Trail takes you by trolley to two of Cape May County's wineries. Enjoy a tasting, tour, and lunch at Willow Creek Winery before your trip up to Natali Vinyards for more wine, cheese, and crackers. $75; includes souvenir glass. Event details
Dining
Cold Spring Grange Restaurant is hosting their Valentine's Day dinner on Saturday, February 10. Start with a reception of passed hors d'oeuvres with a chocolate truffle demonstration, followed by a four-course dinner for $75 per person. Limited seating. Call 609-408-0612 for reservations.
The Ebbitt Room at the Virginia Hotel is offering a 4-course dinner for $85 on February 14. Entree selections include duck breast, wagyu short steak, yellowfin tuna, and short rib. Seating is limited. Reservations are required. Call 609-884-5700 to reserve.
The Beach Plum Farm is hosting two Valentine's Day dinners on Saturday, February 10 and Wednesday, February 14. The 4-course meal will be prepared with Beach Plum Farm's own fresh ingredients, from meat to vegetables. Limited to 28 couples per dinner, so reservations are required. $175 per couple, plus tax and gratuity. BYOB. Reserve online