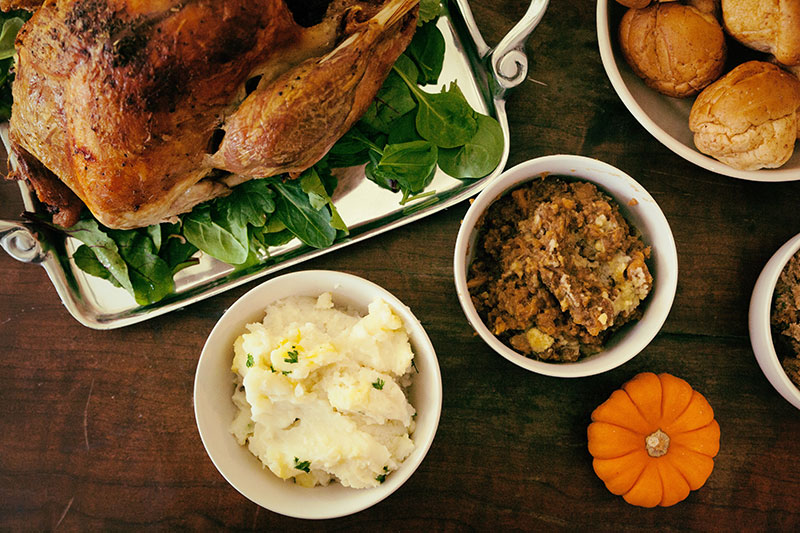 It's not a typical holiday season. But even though we may have to wish friends and family a happy Thanksgiving via Zoom this year, we can seek normalcy in holiday comfort food. If you don't want to prepare your own, here are some Cape May restaurants and caterers with to-go and sit-down options.
Beach Plum Farm
If you're looking for a sit-down option and want to splurge, Beach Plum Farm is offering a multi-course Thanksgiving meal featuring many locally grown ingredients. Enjoy cheese and charcuterie, butternut squash soup, and holiday favorites maple glazed ham and turkey. Dinner starts at 3pm on November 26th and runs $150 per person. BYOB. For tickets, visit their website.
https://resy.com/cities/cpm/venues/beach-plum-farm-kitchen/events/beach-plum-farms-thanksgiving-dinner-2020-11-26?date=2020-11-19
Congress Hall
Congress Hall will host their annual Thanksgiving dinner from 2-6pm on November 26th. Enjoy an a la carte menu featuring turkey, crab cakes, filet mignon, swordfish, or a white truffle risotto. Your first course and dessert are included with the cost of your entree. Reserve seating in Congress Hall's ballroom or in the Blue Pig Tavern. Overnight stays are available.
The Ebbitt Room
This year, the Ebbitt Room is hosting a limited-seating Thanksgiving dinner only for overnight guests. The $75 prix-fixe menu features entrees such as turkey and duck. Once you've booked your overnight stay, call the Ebbitt Room at (609) 884-5700 to reserve your preferred seating time. See their website for more information.
Homestyle to Go
Homestyle to Go is offering an a la carte Thanksgiving menu that you can customize to your family's appetites. Order by Sunday, November 22 and pick up on Wednesday afternoon or Thanksgiving morning. Call 609-600-2084.
https://www.homestyletogo.net/holiday-catering
Prawn
Prawn is offering two menu options: duck and lobster for two, or a half-roasted turkey that feeds up to four. Both options include salad and sides. Order additional appetizers and desserts…or pick from their regular menu, which is also available. To order, call 609-408-6524 or 609-408-7070.
https://www.prawncapemay.com/menu
The Washington Inn
The Washington Inn is offering their Thanksgiving Feast To Go, which feeds up to 12 people, for $395 plus tax. It includes a 20lb roasted turkey, mashed potatoes, sweet potatoes, stuffing, green beans, cranberry sauce, rolls, gravy, mixed greens salad with beach plum dressing, pumpkin spice coffee, and two pies: one pumpkin, one apple. Order by Monday, November 23rd and pick up on Thanksgiving morning at Lucky Bones or the Washington Inn (they'll call you to confirm).
To order, call 609-884-5697 and press 1 at the prompt. Leave your full name and phone number so they can call you back to get your full order.
North Cape May Acme
The North Cape May Acme (at 3845 Bayshore Rd — not the one in Cape May) offers a classic turkey dinner with sides for $59.99. It serves 6-8. Pick-up times available through Wednesday.
Shop Rite Rio Grande
Shop Rite in Rio Grande offers appetizers, entrees, sides, and desserts for pick-up–from roasted turkey to brussels sprouts. Order by Saturday, November 21st at https://deliorder-web.shoprite.com.
The Grange
The Grange posted on Facebook that they are sold out of their Thanksgiving-to-go.
If you read this far, wishing you and your family a safe and happy Thanksgiving.