This story originally appeared in Cape May Magazine's Fall 2008 issue.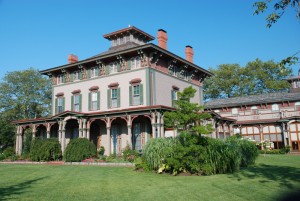 Our story begins at Tara, the O'Hara family plantation in Georgia, as Scarlett O'Hara chats absently with the Tarleton brothers. Wait, that's a different story. This saga begins on a hot summer day at the Southern Mansion, the beautifully restored bed and breakfast in the heart of Cape May, with owner/operator Barbara Bray Wilde talking steadily about the possibility of war with the Yankees. No, no, no, that's not it either.
The notion of southern hospitality has long held a special place in the American psyche. Visions of gentle belles in flowing gowns, smiling and dancing with chivalrous, handsome gentlemen under grand ceilings on a hot Southern night – it's an overbaked melodramatic scene right out of the movies. And as art imitates life, so it is with Cape May – a city fond of its Southern visitors and well-known for its grand parties on hot summer nights.
So it should surprise no one (okay, maybe a few of you) that one of Cape May's most notable landmarks is the Southern Mansion, a structure that, like Cape May, the South, and even America itself, has survived tough times only to come back stronger than ever.
Rest assured that eventually, there'll be a line in here about not giving a damn.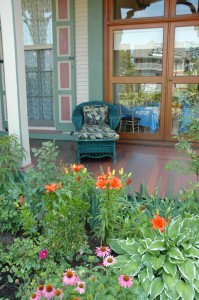 The Southern Mansion, built in 1863 for Philadelphia lawyer/businessman George Allen, is as grand and sweeping as any 1939 Academy Award-winning film. The grounds are two acres of manicured grass and overflowing gardens and the inside is typical Cape May – stately, proud and painstakingly restored after decades of neglect. Yet it fits so perfectly into the surrounding landscape, you could walk right by it and never notice. Gone With the Wind producer David O. Selznick would be inspired.
"When we arrived here in 1995 it was a dilapidated pit," said Barbara, as I thank the stars that I brought a recorder instead of relying on hand-written notes – I would have never been able to keep up. "The ceilings were falling in, the roof was falling in, the floor was falling in, there was garbage piled to the ceiling in every room. The stink was so bad we were getting physically ill."
Cape May was once very fashionable and genteel (like the Old South), until war came and things changed. Are you sensing a theme here? But will power and visionary thinking brought things back from the brink, and today there is prosperity where there was once despair. Eat your heart out, David Selznick.
"This house is very different than anything else in town," said Barbara, a self-described "plant nut" and the owner of other businesses in town, including Willow Creek Winery in West Cape May. "It's very masculine – there's not a lot of tchotchkes. It always had strong colors on the interior and duller tones on the exterior – the idea was for it to blend harmoniously with the trees, the landscape. This house was built in the middle of the century. It's very Southern, old-fashioned, and Italianate."
Like Gone with the Wind, the story of the Southern Mansion is filled with universal themes of overcoming adversity through sheer determination (and a little alcohol maybe) and a transformation from the old order to the new reality.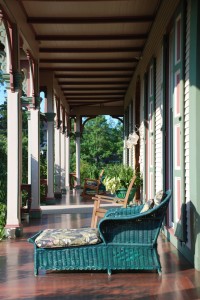 "In '94-95 I was down here with my boyfriend who later became my husband who then became my ex-husband. We snuck onto the property – there were these old nasty 'for sale' signs. We called and had an agreement of sale in three days. Mary Crilly owned it. It was important for her that if she ever got better, she wanted to be able to spend her last days here and we wrote that right into the contract. But she died, so that was a moot point."
Original owner George Allen and his family were affluent Philadelphians and used the mansion as a country retreat for over 80 years, but when Barbara arrived on the scene, it was a rooming house that had been split into almost 30 different rooms.
"We couldn't get a mortgage for it – it was a piece of crap," she said. "But my ex – he looked at it and he knew – before we even began, what it was going to look like when we were done." So, for the next several years, they worked. And worked.
"We moved in here with, I'd say, 10 guys. It was a different time – a time of good carpenters who worked for beers and a little…ahem. We worked 20 hours a day, like animals. There was only one working toilet [Barbara shudders]." Craftsmen, many of them locals who grew up as tradesmen, moved in and applied their talents to restoring the mansion to its former grandeur.
"The people who worked on this were artists – they were interested in detail and making something special. We did everything by hand. We set up our own millwork on the property. We did all the research. The guys actually jacked up the house and slid in sister joists. Those mirrors were destroyed – I did all the gold leaf on the mirrors myself. Luckily there were duplicates throughout the house. The furniture you're sitting on is original – there's millions of dollars in original furniture in this place.
"And this was before the days of Home Depot. It was exciting and fun, but it was crazy. We had a lot of great people who worked here. Maybe not the most upstanding citizens [laughing], but talented people."
Part of the renovation process was removing decades of rotting garbage. It would have been easy to just throw everything in a dumpster. But they couldn't throw anything out, because mixed in with the stinky diapers were important pieces of furniture, century-old photos and priceless lithographs. In the basement they found the ashes of a German seaman – Herzog Johnson – who at one time stayed or worked at the mansion. They threw the ashes out to sea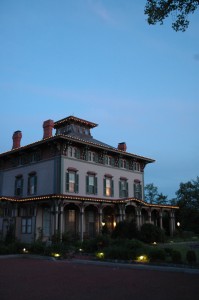 "We figured it was about time. He'd been there for 50 years."
The design for the mansion came from noted American architect Samuel Sloan, who wrote a number of books in the mid-1800s, and filled the pages with original designs. One sketch, entitled "Design for a Southern Mansion," must have caught Allen's eye. (It's also the inspiration for the mansion's current name – the design hangs prominently in the main parlor). Allen contacted Sloan, who had been working on his now-famous Longwood House in Natchez, Mississippi, when the Civil War broke out. This "incident" would no doubt be referred to as the "War of Northern Aggression" by Scarlett O'Hara. Sloan fled Mississippi (as did most smart Yankees) leaving Longwood unfinished and came to Cape May to work for Allen.
"The mansion is very much tied into the Civil War," said Barbara.
The mansion was made, according to Barbara, with one thing in mind – entertaining.
"In the 1860s, Cape May was a dynamite place to do business with both sides of the fence. Southerners vacationed here and Northern industrialists came down too. Allen actually got the contracts to produce the hats for both the Union and Confederate armies. This house was purely and simply built as a business/entertainment home. If you walk down Market Street in Philadelphia, you'll still see George Allen's name in stone above some of the doors."
So that's what the Allens did with his mansion – entertained.
"They had huge parties here and entertained plenty of celebrities – The Prince of Wales, The Duke and Duchess of Windsor, Gene Tunney the boxer, Will Rogers and other notable names. During Prohibition they would bring the alcohol off the beaches from Cape May Point. That's what this house was for, parties and entertaining – fun, fun, fun. Someone told me the house was used as a Japanese embassy but I don't know about that.
"[Long-time Cape May resident] Libby Bellangy told me that when she was a little girl they used to have magnificent parties here. [Barbara whispers] They used to get a little drunk. Libby told me a story about one of the guests falling through the hedge."
Barbara found an old Western Union telegraph to Ulysses and Esther Mercur, George Allen's niece and her husband, written by a party guest who apparently had a fabulous (and evidently half-naked) time while at the house. It reads:
Dear Uly,
My trousers were missing this morning,
My trousers are down by the sea,
So Esther and Uly my loved ones,
Please post back my panties to me
Oh yes, the Southern Mansion has quite the reputation for fun.
"I knew a lot of people who stayed here in the '60s and '70s – a lot of students, a lot of lifeguards. I've been told many stories. Mary and Dan Crilly had a son, also named Dan – he was this big strapping, six-foot-five guy. I'm telling you, I've never met so many women, they're in their '70s now, who told me, 'yeah, I got lucky with Dan.'  They were coming out of the woodwork. This guy must have been the stud of Cape May."
"The house likes parties," added Barbara, "it runs better with more activity."
Even the ghosts in the Southern Mansion like to party. Barbara tells stories of strange happenings too – mostly during parties. Reports claim the ghost of Esther Mercur still haunts the place.  You may notice her strong perfume in the hallways. It's said that Esther is thrilled that the mansion has been returned to its former glory and enjoys attending parties at the mansion.
"George Allen's brother-in-law was Charles Dougherty and he and his wife had two daughters, Esther and Mary. They took over the house later on. Esther was married here in the 1880s, and many of her wedding pictures still hang on the walls. The walls of the Solarium were enclosed for her wedding. We found boxes and boxes of Allen family photographs and diaries in the attic."
The house remained in Allen's family until 1946, when Cape May fell from fashion. Dan and Mary Crilly were the next owners who kept it and operated it as a rooming house until Barbara, and her degree in biochemistry from Cal Berkeley, came along.
"In 1946, this house sold fully-furnished, for $7,000. It cost more to build it in 1860. The Crillys were of more modest means. They thought they'd retire here, but they didn't take into account the cost of maintenance and the house got progressively worse as the years went on."
The mansion is filled with original walnut, oak, mahogany and chestnut pieces; remnants of the days when those woods were plentiful. Hanging on the walls are prints, paintings, newspaper clips, political cartoons and letters that run the gamut of the house's history, mostly from the time the Allens and their descendants used the house.
"I found a lot of [the wall hangings] in rotting boxes and trunks in the attic and the basement. My ex put every single one together and put them up. People would come back from time to time after we first opened and offered to sell me stuff they had removed from the property. I bought a box of photographs from the 1870s that a guy had removed when he lived here. It was $10."
Located all around the house are thick panes of glass that act as lights for the basement. Since there were no electric lights back in the day, there needed to be a way to illuminate the 5,000 square foot basement under the house. The windows are set in the porch and located so that the sun hits different windows at different parts of the day, diffusing the light and lighting the basement.
The 1860s ventilation system is state-of-the-art even for today – open all the windows and a breeze flows through the house from bottom to top. That ventilation system helped clear the air as Barbara was trying to rid the place of the moldy stink after she tore up the old carpets.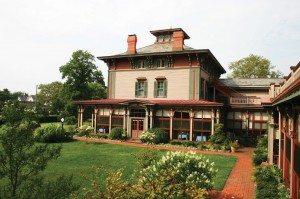 Paintings by American artist Mark Bullen hang in some of the rooms, as well as the bill of sale from National Hall, a hotel that stood on the site where the post office currently sits.
"National Hall was a hotel George Allen owned as well and it burned down. I have all the ledger books from National Hall. This has always been a commercial block." These days, Barbara is hoping to open a full restaurant.
"It's hard to serve just for guests," said Barbara, "It's just not economically feasible. I have a full restaurant kitchen because I need it for the weddings. I serve phenomenal food here."
But no restaurant yet?
"This is what drives me nuts about the city. There could be 30, 40 condos here. I wish the town would recognize what a great tourist draw this is, what an asset this place is. The more we bring in, the more taxes they get, but they don't seem to understand that. I need a restaurant. We could very easily do it and it would have zero impact. We're totally self-contained on this property and we're very quiet."
The Southern Mansion in its current incarnation opened fully for business in 1998 and today hosts plenty of parties – weddings mostly. It's fitting for a structure that was built to be a party house.
"You should come when we have parties, you would love it. It's a party in a grand old house, but you're being served, it's very Southern. We encourage the weddings to take the whole place so you're not bothered."
And while Southern Mansion is technically a bed and breakfast – you can get a bed there for the night and they serve you breakfast in the morning – it's so much more. After all, it's a mansion
"It's a mansion. It's not a little B&B, it's not a hotel. It's a mansion," said Barbara.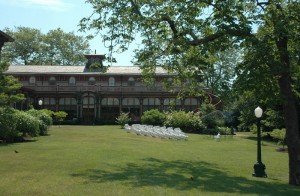 A few years ago, Barbara and her ex added an entire wing onto the house. Like the original, it blends right into everything else, like it belongs there. The mansion is truly a great place for a wedding; the grounds are huge and nothing short of spectacular. And of course, you'll make Esther's ghost happy.
Barbara related a funny anecdote that sort of captured  the Southern Mansion for me: some guests were complaining they wanted bigger TVs and more of today's updated technology in the rooms. Her ex-husband's candid and unblinking answer went something like this… "Frankly my dear, I don't give a damn. Have more wine, more ganja, and more sex."
"It was more blunt coming from my ex," said Barbara with a laugh.
Maybe, but it sounds like a plan to me.