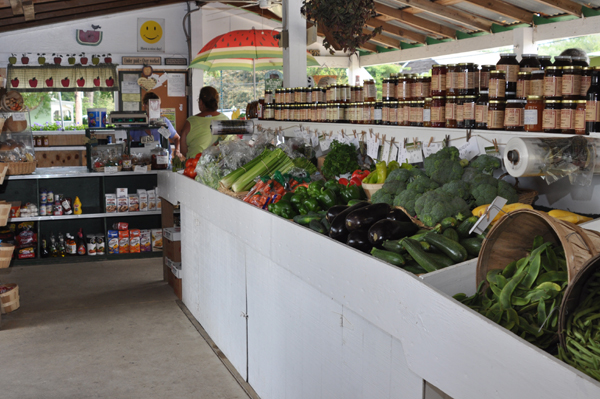 The buzzword for the new decade in culinary circles is sustainability. In a biodegradable nutshell, sustainability is the capacity to endure. It relates to our food in that we need to be better stewards of our planet's resources. I am not getting on my persnickety pulpit and preaching about the evils of cheeseburgers and bottled water and proclaiming all tasty foods we enjoy evil. But the food production industry, from farming, packaging to shipping leaves a Yeti-sized carbon footprint on the globe, and if we hope to be eating cheeseburgers in the future we need to become more aware of how we consume our resources. Some of the key principles of the sustainability movement are: Use local seasonally available ingredients; use foods from farming systems that minimize harm to the environment; eliminate at-risk or endangered seafood from the diet; and promote health and well being in our diets.
Looking at these principles one by one, we can see the benefit not just for the planet, but our palate as well. Local produce tastes better because the food is allowed to ripen naturally. By not picking the food three weeks before it has time to fully develop flavor and nutrients, and by not shipping it cross country and chemically ripening it, we wind up with a better-tasting, better-for-you product. We all bemoan grocery-store produce that looks great, but has no flavor. Quit buying it, thus forcing the grocery store chains to offer foods that come from organic, healthful farms and businesses. Case in point, most grocery store chains offer cage-free, antibiotic-free eggs and free-range meats. Not only are these foods healthier for people and the planet, but they taste better. If these foods become the standard, they will also become less expensive.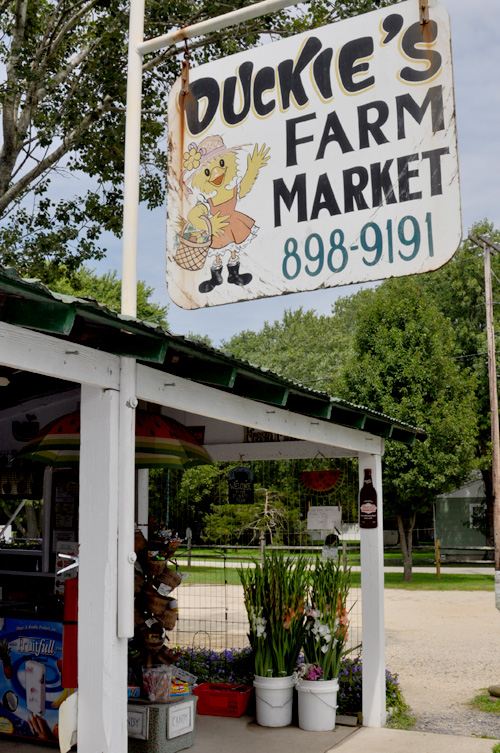 Locally harvested fish means the seafood is fresher. It also means jobs and money for the local economy. Fishing responsibly also means ensuring this precious natural resource for future generations.
Greening our kitchens can be relatively painless. Buying local can be as simple as stopping at Duckies on Broadway or other local farmers' markets to buy what is fresh and in-season before you drive off the island to hit the local grocery store chains.
This approach will require some culinary flexibility. You may not always be able to get what is on your shopping list, but the produce you do buy will taste better. When at your local fish market ask for what is harvested locally. Avoid farm-raised fish like salmon and tilapia and enjoy scallops, flounder, oysters, clams, tuna, bluefish and squid. All are harvested by local fishermen.
This spring, as the sun returns to our island and gardens begin to sprout, use local ingredients in your cooking. The following recipes feature local produce and proteins: Spring Peas and Pearl Onions with Amish Bacon; Pan Seared Scallops and Leek Potato Hash with Beet Horseradish Puree; Mushroom Vinaigrette Salad; and Poached Local Eggs Florentine using Jersey Spinach.
Remember, in the kitchen think global in flavors and cook locally. Until next month, Bon Appétit.
Spring Peas and Pearl Onions with Amish Bacon
Tip: To conserve water, blanch onions first. Remove with slotted spoon or strainer and leave water in pan to blanch peas.
Ingredients
4

cups

shelled fresh peas blanched see blanching procedure below

2

cups

peeled and blanched pearl onions

12

ounces

slab bacon cut into ¼ cubes

2

tablespoons

butter

Sea salt and fresh cracked black pepper

8

mint leaves

chiffonaded
Instructions
Blanch peas in 3 pints boiling salted water for 3 minutes until peas are slightly tender and still bright green. Shock in ice water to set color and stop the cooking process.

Peel pearl onions. Blanch six minutes and shock.

In sauté pan, render bacon over medium high heat until almost crispy add onions and lightly brown for 3-5 minutes add butter and peas add salt and pepper and toss in fresh mint serve with perfect roast chicken.
I suggest serving this with my Perfect Roast Chicken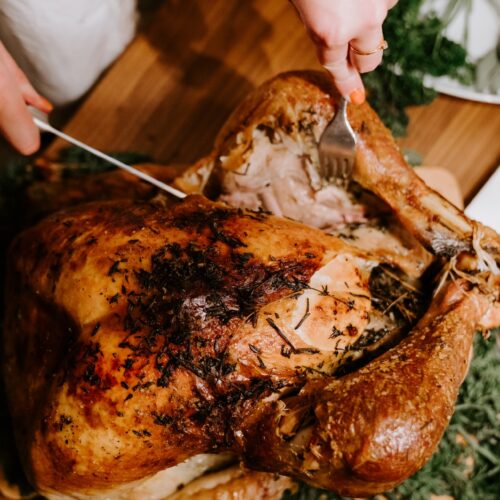 Pan Seared Scallops and Leek Potato Hash with Beet Horseradish Puree
Ingredients
Leek Potato Hash
1½

pounds

new potatoes

Note: new potatoes are thin skinned; not all red potatoes are new potatoes.

4

leeks,

split in ½ lengthwise and cleaned, then cut into thin ½ moons
Beet Purée
4

large beets

peeled and cubed

¼

cup

diced fresh horseradish root
Scallops
5

scallops (10 count) per person

abductor muscle removed

Olive oil for searing
Instructions
Leek Potato Hash
Cook potatoes whole starting in cold water bring to boil simmer for 10 minutes or until slightly tender. Drain and cool. Cut into ½ inch dice. In sauté pan melt 4 tablespoons butter. Sweat* leeks until tender. Season with salt and pepper. Increase heat to high. Add potatoes, cook until brown and crispy.
Beet Puree
Place beets and horseradish root in saucepan. Cover with water. Simmer 45 minutes until beets are soft. Replenish water if necessary. Puree in blender until smooth. Season with sea salt. Strain.
Scallops
Pat scallops dry and season with salt and pepper. Heat 3 tablespoons olive oil in sauté pan. Sear until brown, 3-4 minutes per side. To plate – place hash in center. Ladle beet puree around arrange scallops on top
Notes
* A technique by which ingredients, particularly vegetables, are cooked in a small amount of fat over low heat. The ingredients are covered directly with a piece of foil or parchment paper, then the pot is tightly covered. With this method, the ingredients soften without browning, and cook in their own juices. www.epicurious.com/tools/fooddictionary
Mushroom Vinaigrette Salad with Parsnip Purée
Pennsylvania mushroom farmers have reclaimed old coal mines and turned them into mushrooms beds. That's sustainable change.
Ingredients
½

pound

crimini mushrooms

quartered

½

pound

shitake mushrooms

caps only, quartered

½

pound

button mushrooms

quartered

4

scallions sliced on bias

1

red pepper

julienned

2

teaspoons

fresh thyme

¼

cup

rice vinegar

4

tablespoons

peanut oil
Parsnip Purée
5

pounds

parsnips

peeled and sliced ¼" thick

4

tbsp

butter

Cool water

Salt and pepper
Instructions
In sauté pan over medium heat, add peanut oil. Add mushrooms. Season with salt and pepper. Cook half way. Place in bowl. Toss with remaining ingredients. Chill.

Place parsnips in saucepan. Cover with cool water. Simmer 50 minutes until water is 90 percent absorbed. Add 4 tablespoons butter. Mash. Season with salt and pepper.

Serve the mushrooms atop mashed parsnips. I recommend this with pan-seared Mahi Mahi!
Poached Local Eggs Florentine using Jersey Spinach
Ingredients
Creamed Jersey Spinach
2

pounds

stemmed spinach

blanched, cooled and squeezed dry

3

shallots

minced

3

tablespoons

butter

1

cup

cream

3

tablespoons

grated Parmesan cheese

¼

tsp

fresh grated nutmeg

Salt and pepper
Poached Eggs Florentine
8

local eggs

artisan sourdough bread
Instructions
In sauté pan, sweat shallots 3 minutes.

Add cream and reduce by 2/3.

Add cheese.

Fold in spinach.

Season with salt pepper and fresh grated nutmeg.

Poach the eggs.

Serve with creamed spinach on top of toasted artisan sourdough bread.