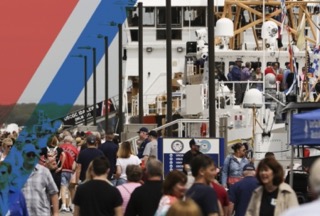 Coast Guard Community Festival
Parking is available along Pennsylvania Ave. and at other designated locations in the City of Cape May. Look for parking attendants as you approach the Training Center on Pennsylvania Ave. Trolleys will run a continuous loop from parking areas to the main gate.
Photo ID will be required for all adults. Bags are subject to search.
Ship Tours (Walking tours of Coast Guard ships. Please Note: Ship tours include steep steps, and require proper footwear. No open-toed shoes or heels. Baby strollers are not allowed.)
Trolley tours of Training Center Cape May
Kids' Zone (Face-painting, games, kit-building, and a bounce house)
Cultural Exhibits, Community Organizations and Vendors (Extensive cultural, historical, and Coast Guard exhibits; Photo booth; displays; vendors. Food and beverages, featuring Cape May Brews!)
USCG Static Helicopter Display (Meet with the crew of a Coast Guard helicopter.)
Vendors & Community Groups
Food and Beer Garden (Featuring Cape May brews)
Entertainment (Enjoy music all day!)
Live Demonstrations! (Check out special Coast Guard demonstrations and performances throughout the day. Visit the information tent at the festival entrance for times and locations.)
US Coast Guard Recruit Band performances
Search and rescue demonstrations over Cape May Harbor
K-9 demonstrations
Fire Department demonstrations
Coast Guard recruits marching in formation
10-30am-3pm-hourly 10:30am – 3pm, Hourly Cape May Harbor Tour via Pirate Ship (Ticket Required)
Family-friendly tours of Cape May Harbor via boat depart from the pier.
$5 per person requested donation for harbor tours. Purchase tickets on-site.
Please Note: Ship tours include steep steps and require proper footwear. No open-toe shoes or heels. Baby strollers are not allowed on tours.
For the convenience of our visitors to the festival, a free shuttle will be available to and from the festival.  Please note specific locations for pickup and drop off within shuttle map provided.