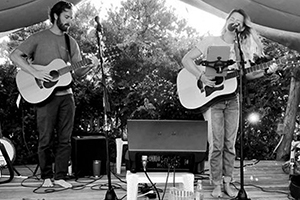 Hannah & Ben Stone with Jim Hannah at the Chalfonte
Sibling duo Hannah and Ben Stone are from Cape May, NJ and have been playing music together for over ten years. At age 20, Hannah moved to Los Angeles where she studied Music Composition and Songwriting. Now returned from the West Coast, she has written and recorded her own music, toured across the country, and performs frequently in Cape May, Philadelphia, and New York City.
This summer the duo will be joined by Jim Hannah, a Baltimore native who has played with numerous artists including Caleb Stine, Rumba Club, and Ari and The Buffalo Kings. The trio brings a lively take on popular songs as well as some original tunes to spice things up!