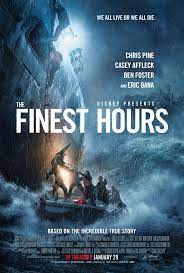 Movie Night Series by Cape May Stage: The Finest Hours
The Finest Hours
Supports the Float the Boat Project of the Cape May Maritime Museum
The Finest Hours tells the remarkable true story of the greatest small boat rescue in Coast Guard history.
Make plans to attend either the matinee (3 pm) or evening (6 pm) showing of this movie to support the efforts to fully restore the USCG-36538. Learn about the many Cape May connections in this historic rescue and meet the crew working to restore a boat identical to the one seen in the movie!
Rating: PG-13
Runtime: 120 Minutes
Production Year: 2016
Movie Night at Cape May Stage is a community "Film-Raiser" event to benefit local non-profits. Join us for a series of fun and entertaining movies in our historic theater. As part of our commitment to the local community, 50% of all proceeds from this movie series will be donated to different non-profit organizations.