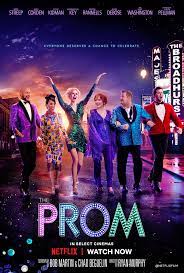 Movie Night Series by Cape May Stage: The Prom
The Prom
A group of down-on-their-luck Broadway stars shake up a small Indiana town as they rally behind a teen who just wants to attend prom with her girlfriend. Starring Meryl Streep, James Corden, Nicole Kidman, this musical comedy is a fun way to help support the local after-prom committee in their efforts to provide alcohol-free and drug-free post-prom activities.
Rating: PG-13
Runtime: 120 Minutes
Production Year: 2020
Supports the Lower Township Regional After-Prom Committee
Movie Night at Cape May Stage is a community "Film-Raiser" event to benefit local non-profits. Join us for a series of fun and entertaining movies in our historic theater. As part of our commitment to the local community, 50% of all proceeds from this movie series will be donated to different non-profit organizations.