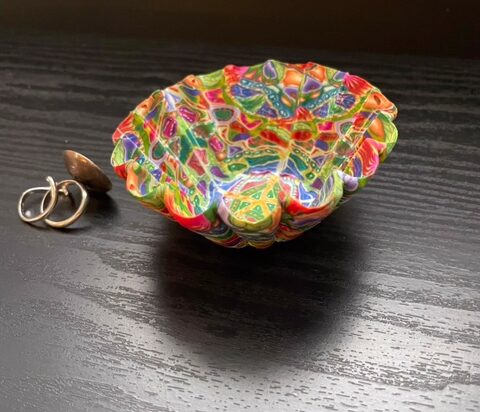 Opening Reception to Meet the Artists at the Harbor Gallery
The Harbor Gallery is pleased to announce their featured local artists for the month of July. Polymer clay artist Debra Donahue and painter Carole McCray will display their works for the month of July, with an opening reception to meet the artists on July 1st from 4-6pm. All artwork is for sale, with a portion of sales going to support the Nature Center of Cape May. Light refreshments will be served. The show will remain on exhibit at the Harbor Gallery for the month of July.
Debra Donahue has always had a strong creative side, ranging from designing jewelry, creating works in Iris Paper Folding, to making her own curry blend, to being the lead singer of the popular Cape May trio, The Squares. Recently a new pursuit has been added, when she discovered the joys of working with polymer clay to create her own expressive designs in bowls, jars, and other beloved decorative and useful vessels.
Carole McCray is drawn to capturing the ever-changing moods of the seasons and particular times of the day of the salt marshes, the sky and the water. "I think anyone lucky enough to be an artist easily notices the natural beauty around us, the brilliant sunsets, an azure sky, cloud shapes and verdant meadows." Explains Carole. "My main medium is oil because I love its buttery texture, which gives me a sense of freedom when applying the paint to my canvas.  I focus on the emotion a subject evokes for me, and I interpret that feeling to create a mood in my paintings, not an exact rendition of the subject, but my interpretation."
*Vessel by Debra Donahue. Photo credit: Suzanne Kulperger.