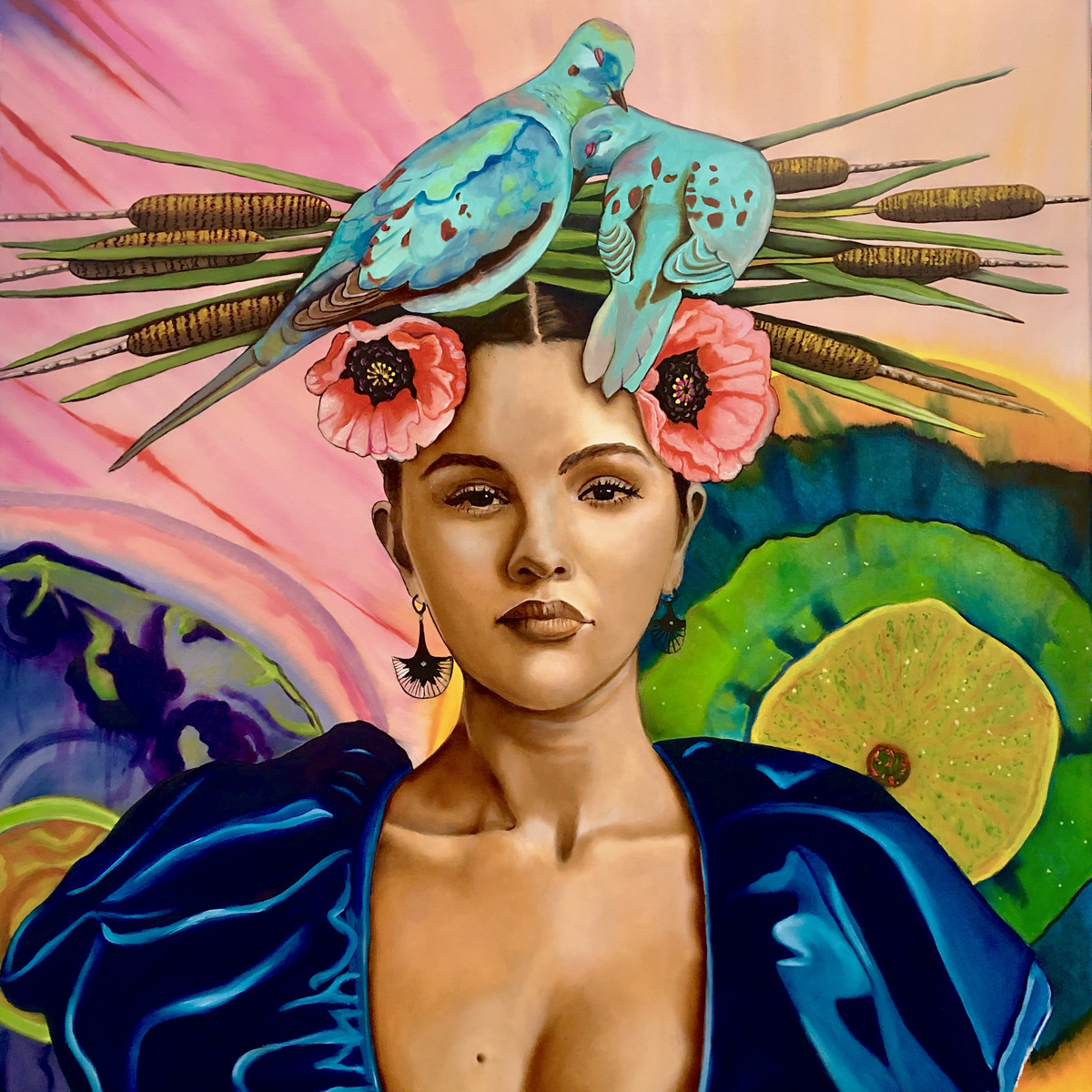 SOMA NewArt Gallery Art Exhibition of the 2022 Season
SOMA NewArt Gallery is pleased to announce its fifth art exhibition of the 2022 Season, featuring three regional solo artists: Elis Bond, Patricia Caulfield and Don Merwin.
"While You Were Sleeping" – New paintings by Elise Bond
"Untethered" – New paintings by Patricia Caulfield
"Atmospheres" – New photography by Don Merwin
Elise Bond "While You Were Sleeping"
While you were sleeping
You tossed, you turned
You rolled your eyes as the world burned
The heavens fell, the earth quaked
I thought you must be, but you weren't awake
~Elvis Perkins
"For this series I paint moments in time, reflections of nature, imaginations of alternate universes where the mermaids live and horned women watch over the lands. If there is one silver lining to the last several years, it is that I have been reminded to take moments to slow down….step out into nature more often, feel the grass on my bare feet and the sand under my toes. It has evoked an Awakening in me." Bond's paintings always start with various women in the arts, and enjoys taking them into imaginary worlds. Bond starts with a photograph that speaks to her, and then through a series of cutting out images of flowers, birds, and sea life, "I compose a scene on the computer completely before I put the paintbrush to the canvas. I play with color and texture until it sparks a feeling and ignites the senses."
Bond majored in Art at the University of Denver. She also took classes at the Chester Springs Studio in Historic Yellow Springs. Bond has worked in ceramics, printmaking, pastels, oil pastels, acrylic and oils. She has exhibited throughout South Jersey and Pennsylvania in solo and group shows. Born in Chester Springs, Pa., Bond now resides in Cape May Court House, New Jersey for over twenty years.
Patricia Caulfield "Untethered" "I am seeking. I am striving. I am in it with my whole heart." – Vincent Van Gough…. Caulfield scenes of the sky and sea are painted intuitively to evoke emotion and connects to a memory or to create a longing for a new experience. "Clouds and the sea have long been a source of inspiration for me. By studying their ever- changing movement, atmospheric paintings without using photographic reference; light and depth, I push to create an ambient shift in the eyes of the viewer. My desired result is to take the viewer on a journey through my work." Caulfield takes with each painting and creates by applying layers of heavy body acrylic paint, and then sands through the layers to create a pattering effect along with depth. She uses many different weights of sandpaper, steel wool and knives to etch into the board. As she paints, she intents on drawing the audience in and allowing them the space to stop, contemplate the color, line and flow of each piece and simply breathe. "The Untethered beauty of clouds and seascapes lingers long after the summer months have faded." Patricia is a graduate of the Maryland Institute College of Art and completed the Art2Life Creative Visionary Program in 2020. She is a member of Creative York and The York Art Association, both in York, PA and the Harrisburg Art Association in Harrisburg, PA. She has shown and sold her work in all locations. She is the recipient of the Rottler Award of Excellence at the York Art Association, June 2021. She also received the Award of Excellence at the York Art Association's 50 th Annual Juried Show in October 2021. Branching out into public art, Patricia's seascape group of four paintings are a part of the permanent collection at the Wellspan York Campus Cancer Center.