So, I'm heading back out to Sunset beach because, it's a fabulous place that's why, and I'm thinking how did people get out here before they had this pretty road? In fact, how did people get here? And what was it like out here?

You know, Sunset Beach has a pretty interesting past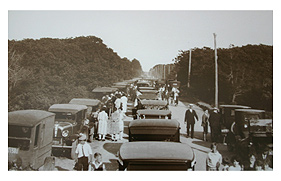 which goes back to –well, it goes back to pirates and explorers but let's fast forward a bit. Did you know, for example, that Sunset Beach was THE landing spot in the 1800s for visitors coming to Cape Island? Cape May Landing became Steamboat Landing around 1822 when Captain Wilmon Whilldin (relative of Alexander Willdin, founder of Sea Grove, later known as Cape May Point) started the first "steam packet line." Since there would be no real landing until around 1830, passengers disembarked into boats which then spirited them to shore.
Of the iron-side, wheeler steamboats which serviced Steamboat Landing, Capt. Willdin's Delaware, the Richard Stockton, the Ohio and the Palace Steamer Republic which ran from 1878 to 1903 were among the most celebrated.
Creating a viable wharf for passengers was the goal for the next 100 years because, don't forget, they were still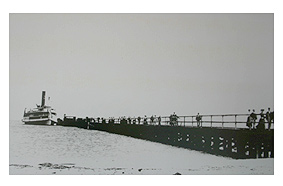 trying to create a viable ferry landing when the concrete ship Atlantus broke its moorings and sank in 1926.
The early landing was long and tenuous, at best. Made of wood, it was suspended from the water by tall, narrow poles.
So, what did the visitors do once they stepped foot on sandy soil? They were met by horse drawn taxis or horse drawn rail cars that ran from the dock to Cape May down what is now Sunset Boulevard. However, once railroad transportation became cheap, easy and direct, the steamboat (which by the way had overtaken the stagecoach as a means to get to Cape Island), was then itself replaced by the train in the late 1800s.

Just a little background on the railroad, because – well - railroad? Sand? Water? Erosion? Hurricanes? Violent rainstorms commonly known around here as Nor'easters? It sounds impossible but the rails were quite popular from 1863 well into the 20th century. The railroad gave thousands of visitors easy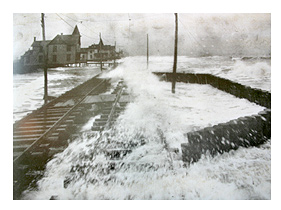 access to the shore as well as giving farmers an avenue to sell their crops outside the area in big city markets like Philadelphia and New York. At Sunset Beach the tracks could transport lots of people coming off the steamship landing to Cape Island. Three railroad companies serviced the area – the Delaware Bay, Cape May, and Sewell's Point Railroad companies. Tracks ran from Sunset Beach around the Point to South Cape May (that's another story. South Cape May is called the South Meadows now) into Cape May City, out to Sewell's Point (now the Coast Guard Training Center) back around to Schellenger's landing (by the Lobster House Restaurant) where visitors could then connect to Philadelphia-bound trains. And as progress would have it, trains were replaced by cars in the 1920s when dirt roads, like that same Sunset Boulevard, became concrete paved.

One odd occurrence brought about by the onset of the railroad was Sunset Beach's own private industrial revolution. Keep an eye on the land to your right when you're walking or biking along Sunset Boulevard near the beach. A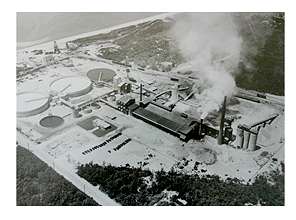 project is currently underway to revitalize the site of the former Harbison-Walker Magnesite Plant on Sunset Boulevard. The property is now owned by the state and is part of the Higbee Beach Wildlife Management Area. In May coconut fiber mats were placed on top of the seeded mound of fresh dirt. The finished product will be a seaside meadow covering 21 acres with 8 different types of grasses and flowering plants.
Now what was that you say? A magnesite plant? Who would build a plant on such pristine land? A different day, a different time. And listen to this, before it was a magnesite plant it was The Cape May Sand Company. Started in 1905, the enterprising businessmen – S. Walter Davis and David Wilkshire - wanted to take advantage of all that sand. Imagine, having so much of nature's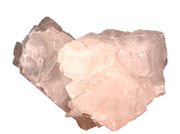 abundance and not being able to turn it into a profit? The entrepreneurs saw sand and railroad tracks and must have thought "paydirt."
Joe Jordan explains this phenomena in his well researched book Cape May Point – The Illustrated History: 1875 to the Present. "Beach and dune sand have extensive industrial uses, and such mining operations have now shifted from the sea coast to the shores of the Great lakes and to the desert lands of the west. Sand deposits rich in quartz are preferred for glass manufacture, and many sands are needed by foundries to make molds and cores."

And so it began – steam shovels scooping up buckets of wet sand, dumping them into rail cars lined up along the tracks for the final train ride to Cape May, Philadelphia and where ever. The ride proved to be a little dicey every time a storm hit 'cause duh the tracks did run along the ocean. The owners decided to ask the Atlantic City Railroad Company to build another set of inland tracks through Lower Township to Cape May which they did until 1942 when –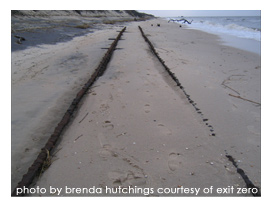 see everything comes around to a point eventually – the Harbison-Walker Magnesite Plant opened.

I bet you're wondering what
magnesite is aren't you? Well, I'll tell you. Magnesite or MgCO3 is magnesium and carbonate. Magnesium has the same crystal structure as calcite. Calcite is also used as a component in cement, mortar, the production of limestone. Limestone is used in the steel industry, glass industry, ornamental stone, chemical and optical uses. Ok Science lesson over. Let's get back to history.

The plant closed in 1982s but for 40 years Harbison-Walker Refractories Company of Pittsburgh, a subsidiary of Northwest Magnesite Company, was a major employer in the area. Dust from the plant covered everything and everybody. The plant opened during WW II when U.S. blockades prevented imports of magnesite for firebrick needed for steel production. The war office set aside the 350-acre site because of its ideal location. It had easy access to sea water, rail transport, a highway and close proximity to a quarry in Paoli, Pennsylvania which provided the raw material needed to create a synthetic magnesite. During the war years, the plant ran 24-7 and so did the smoke and dust. At its peak, 108,000 tons of magnesite left the plant. And that's just went out of there on the ground, you can only imagine what went airborne.

So what does that mean today? It means visitors can now look forward to a springtime of birds, dune grasses, and flowers– you know the things one would expect to see by the sea. And that's not all, because of the currents and the crystals formed from them, we get yet another plus from Sunset Beach – Cape May Diamonds.

Cape May Diamonds were first discovered by the Kechemeche Indians, part of the Lenni-Lenape Council, blood affiliates of the Algonquin Nation. They were found, according to information provided by Sunset Beach Gift Shop, which sells the diamonds in every shape and form, in limited areas around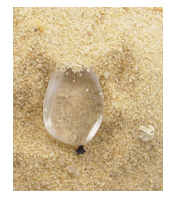 Delaware Bay. The translucent gems were held in high esteem by the Kechemeche "who attached mystical powers and a sacred trust to their possession." They believed the curious stones possessed supernatural powers, "influencing the success, well-being and good fortune of the possessor."
Larger, flawless stones were often given as a token to seal the bonds of friendship. One such stone was presented to early Cape May settler Christopher Leaming by King Nummy, the last chief of the Lenni-Lenape. Chief Nummy received the stone from the Kechemeche as tribute to the leader and as a sign of their faithfulness and loyalty.
Leaming, in turn, sent the stone back to Amsterdam, in the Netherlands, to be cut and polished into a finished gem.

So, what is a Cape May Diamond, really? They are pure quartz crystals, a common mineral. The crystals wash up on shore and gleam in a variety of colors in the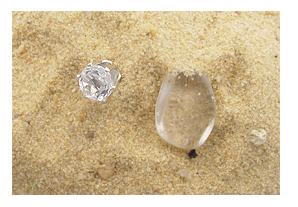 sand like diamond pebbles. The source of the Cape May Diamond is the upper reaches of the Delaware River – 200 miles upstream. For thousands of years the quartz deposits are battered by river's swift waters. Once the crystals reach the ocean they begin their journey here. Another thousand or so years goes by and voila they reach the mouth of the Delaware Bay which is 17 miles across where they are swiftly propelled. This turbulence comes about because although the mouth of the bay is 17 miles across, the belly of the bay is 26 miles across causing "a strong flow on both the outgoing and incoming tides."

The strong current tumbles the quartz pebbles ashore. The larger stones wash ashore mostly during the winter months with the stronger current.
The folks at Sunset Beach report hearing about "diamonds" as big as eggs. And once polished, finished and mounted, they rank as one of the area's best selling items. But, no worries, you can find your own with a little patience. When you go out to Sunset Beach, you'll see people combing the sand for the sparkly pebbles. Why not join them?

Well, what more can you ask of this small piece of heaven? History, beauty, tradition, beach, ocean view at your beck and call all year long. And from Cape May – you can ride to it, bike to it or walk to it. I'm quite sure those of you who are regular visitors know what I'm talking about. New visitors? Put Sunset Beach #1 on your must see list.