I was recently asked to cater a 70th birthday party. The hostess requested that I design a menu with a Jersey flair and feature Cape May products. One ingredient stood out that would represent Cape May. The Scallop. There are three main types of Scallops – Bay, Sea and Calico. The best eating are the Atlantic Sea Scallops.
Scallops thrive in every ocean in the world and are the only migratory bivalve mollusk. The Scallop shell has long been a symbol of the Apostle James and of Christian pilgrims in the Middle Ages. Legend has it that pilgrims carrying Scallops shells would present themselves at castles and abbeys along their route and would be given as much sustenance as they could get in one scoop. Even the poorest household could offer charity without being overburdened.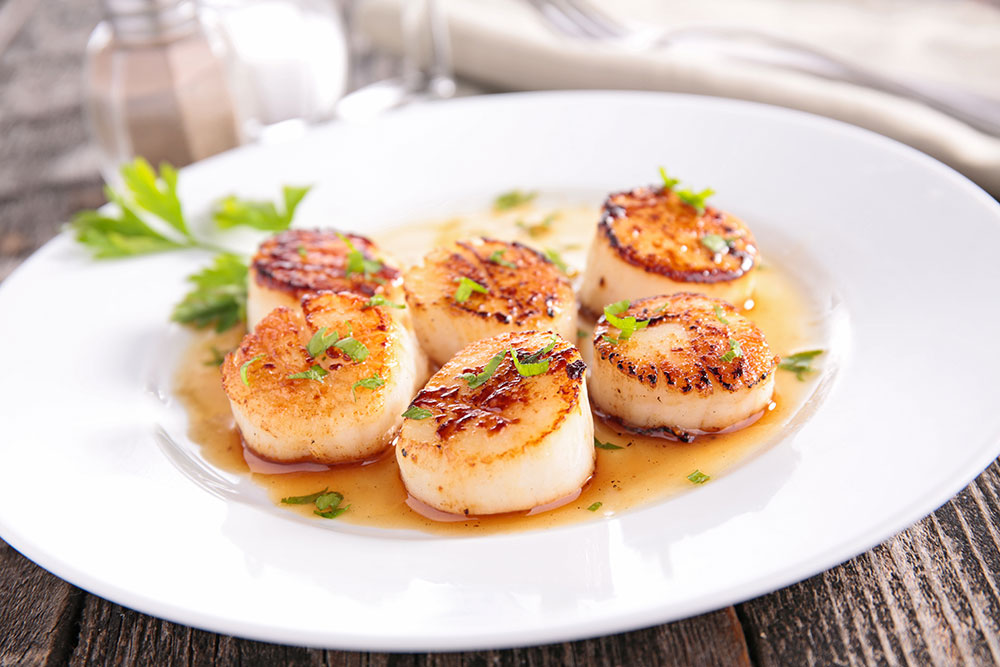 As a chef what I like about scallops is their versatility. The sweet white meat, what we actually eat is the abductor muscle, which opens and closes the shell, lends itself to almost any preparation.
Scallops are sold either wet or dry-packed. The wet scallops are soaked in a phosphate solution which inflates their weight. You get less per pound and the liquid comes out during cooking yielding a tough mineral-tasting scallop and watered-down sauce. Dry-packed scallops are preferred since the flesh can be caramelized when seared, yielding a golden brown color and sweet crust that compliments the natural taste of the scallop. Scallops should be lightly seasoned with sea or kosher salt and seared over high heat with a minimum of fat or oil.
Scallops brushed with butter or oil also are great grilled. If using smaller Scallops, skewer them on rosemary they will be easier to turn and the herb adds a nice fragrance to the dish. A squeeze of lemon and melted butter complete the dish.
Besides wet or dry-pack, scallops are sold by count. The number refers to the amount of scallops per pound (12-15, 16-20, 21-25). The lower the number, the larger the scallops. Three to four 10-12 count scallops can be sufficient for a meal.
The dish I created for the birthday party was composed of the best New Jersey offers this time of year. Baby farm fresh arugula was tossed with roasted sweet white corn, and diced crisp slab bacon. The salad was topped with two perfectly seared U-10 scallops and served with a sauce of charred Jersey tomatoes. Flavorful and colorful, this dish upon presentation caused the hostess to exclaim, "You created Jersey on a plate."
What a great compliment. It is the goal of a chef to take the best of a state or region and represent the area through food. Sweet, colorful and a little salty, with a peppery bite, New Jersey on a plate indeed.
This month try your hand at this dish while the Jersey corn and tomatoes are still available.
When cooking Scallops, they are best when slightly under done to retain the sweetness and delicate texture. Overcooked they can become rubbery with the texture of a pencil eraser.
Scallops are also great in the South American classic ceviche. Lime juice, cilantro and fiery peppers contrast nicely with the ocean sweetness of scallops. Don't be afraid that the scallops aren't technically cooked. The citric acid makes it safe to eat.
Cream sauces curries, mustard and horseradish all work with the versatile scallops as well as a variety of starches from pasta and polenta to grits and potatoes. This month enjoy Jersey on a Plate as well as my spin on ceviche. Until next month, Bon Appétit.
Scallop Avocado Ceviche
Ingredients
½

pound

21-25 sea scallops

Green chopped onions

3

cloves

chopped garlic

½

cup

lime juice

3

tablespoons

cilantro leaves

1

avocado

diced

2

serrano peppers

minced

Kosher salt

1

red pepper

diced

1

red onion

minced

Black pepper

3

tablespoons

olive oil
Instructions
Mix all ingredients. Chill 3-4 hours.

Serve in martini glass, dusted with smoked paprika.
Jersey On A Plate
The sauce and components for this salad can be prepared a day in advance. Sear the scallops just before serving.
Ingredients
2

ears Jersey sweet corn

8

slices

thick slab bacon

Charred tomato vinaigrette

see recipe below

3 10-12

count scallops per person

see recipe below
Charred Jersey Tomato Vinaigrette
2

Large Jersey tomatoes

Olive oil

Salt

pepper

2

cloves

garlic

2

lemons

juiced

¼

cup

wine vinegar

Reserved fat from bacon

2

teaspoons

thyme
For the Scallops
3 10-12

count Scallops per person for a salad or 4-5 for an entrée

Sea Salt

2

tablespoons

olive oil
Instructions
Roast corn on grill or in 400 degrees oven for 15 minutes. Cool. Remove husk. Cut from cob. Reserve. Dice bacon. In sauté in pan, add 2 tablespoons olive oil. Heat on medium flame. Add bacon. Cook until crispy, approximately 15 minutes. Stir with wooden spoon to brown evenly and prevent sticking. Drain and reserve fat for dressing.
Vinaigrette
Rub tomatoes with olive oil and season with salt. Char on grill for 15 minutes, turning to cook evenly. Can also be done over gas burner. In sauce pan add tomatoes, 2 cloves garlic, juice of 2 lemons, ¼ cup wine vinegar and reserved fat from bacon. Puree with immersion blender. Season to taste with salt, pepper and 1 teaspoon fresh thyme.
Scallops
Pat Scallops dry with paper towel. Season with sea salt. Heat large sauté pan over medium-high heat. Add 2 tablespoons olive oil. Sear 2-3 minutes per side until golden brown.

Assembly on large white plate. Ladle 3 ounces tomato vinaigrette. In bowl, mix 3 cups baby arugula with bacon and corn. Add juice of 1 lemon and 2 teaspoons olive oil. Mix well. Mound salad in middle of plate. Arrange scallops on top of sauce.
Scallops with Horseradish Bacon Cream Sauce and Scallion Mashed Potatoes
Ingredients
For sauce
1

shallot

minced

4

slices

bacon

diced

2

tablespoons

horseradish

1½

cups

cream

Salt and pepper

Juice and zest of 1 lemon
For mashed potatoes
your favorite mashed potato recipe

1

cup

chopped scallions
Instructions
In sauté pan cook diced bacon until brown. Add shallots. Cook on high heat 3 minutes. Scrape pan gently with wooden spoon. Add lemon juice, zest and horseradish. Scrape pan. Add cream. Reduce until sauce coats back of spoon.

Sear 4 to 5 Scallops per person.

Serve with your favorite mashed potato recipe, with 1 cup chopped scallions added.