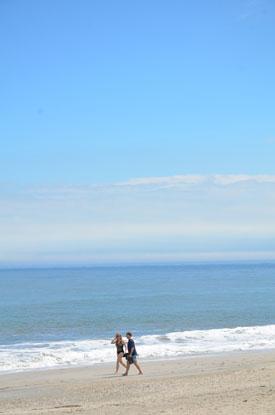 Travel+Leisure
America's Most Beautiful Coastal Views
Best Resorts for Family Reunions
Affordable Seaside Inns
Conde Nast Traveler
America's Best Beaches
Travel Channel
Top 10 US Beaches
Plan your visit to Cape May
Cape May, the Queen of the Seaside Resorts, distinguishes herself in many ways. We have the pristine beaches, promenade, and all the amenities that make any seashore town lovely, but we also have a rich history and an architectural diversity equal to none.
In fact, in 1976 the entire city of Cape May was declared a National Historic Landmark. Possessing one of the country's largest collections of 19th century framed buildings, Cape May is New Jersey's jewel in the crown.
But it's not all about the history; we live on an island which three municipalities share - Cape May, Cape May Point and West Cape May. You can leave you car in the driveway or parking lot and walk or ride your bike anywhere and still have easy access to the grocery store, the beaches, or any of the restaurants.
We're a small town and proud of it, and we hope you come away thinking this is "your" town.